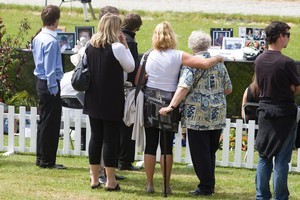 The vast majority of the royal commission of inquiry hearings into the Pike River tragedy will be held in Greymouth, the commission says.
Twenty-nine workers died after a series of explosions in the coal mine, the first on November 19.
Since then, the mine has been too hot to allow the men's bodies to be retrieved.
Yesterday, the commission responded to a call by a spokesman for the families of the dead men to hold the entire inquiry in Greymouth. A spokesman for the commissioners said the vast majority of the hearings would be held there.
However, Christchurch hearings might be necessary if people such as overseas experts could not travel to Greymouth.
"All the planning has been geared towards having most of the hearings on the West Coast," he said.
Pike River Families Committee spokesman Bernie Monk, whose son Michael, 23, died in the mine, had said that the families desperately wanted the entire inquiry held in Greymouth.
"We are concerned. We desperately want it here ... some of the families - who have lost their main breadwinners - how can they be involved in the inquiry if they don't have it on the Coast?"
He knew of at least three families who wanted to attend the inquiry every day and travelling to Christchurch simply wasn't practical - financially or emotionally, he said.
"I just don't want us as victims - and I regard the families as a victim - to be inconvenienced for the sake of people who might only be called on once, maybe twice."
The royal commission is scheduled to report no later than March 31 next year but Mr Monk said it would probably go for at least 18 months and it was simply common sense to hold it in Greymouth.
Labour leader Phil Goff, deputy leader Annette King and Labour list MP Rick Barker visited Mr Monk this week. "They reassured us that the Labour Party would be lobbying for us to have the royal commission here and I really appreciated that."
Some of the families were struggling to cope, he said. "Some of them are not coping at all. It's been a really sad time for them over this period ... it's just been devastating for them."
The findings of the royal commission of inquiry were crucial.
"We need the truth and we need everything to come out, not just scrape the surface," Mr Monk said.
Inquiry chairman Justice Graham Panckhurst said he would ensure that affected families were consulted about the location of hearings.
Meanwhile, attempts will be made this weekend to seal cracks around the ventilation shaft at the mine.
Foam that expands to 35 times its original volume and hardens within about five minutes will be used to try to create a seal that will make the GAG and Floxal machines pumping water and nitrogen into the mine more efficient.
- NZPA