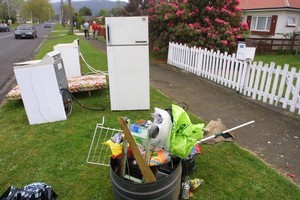 A few weeks ago, the inorganic collection hit Devonport's streets. It's a superb way to recycle all sorts of junk and long may this institution live.
"We call it Christmas," a mother with her children told me as they picked up a chair from my neighbour's pile one year.
I felt the same way the following year as I chanced upon a couple carrying a Don sofa (an iconic 1950s piece of furniture) out of their driveway. I pulled over, opened the back of my people-mover and they loaded it straight in. All it needed was new squabs.
Most people I know have an inorganic conquest or two they like to share when the topic comes up in conversation. One friend picked up a hand-knotted rug worth more than $1000. She doused one corner of it with paint stripper to remove a spill and it's as good as new.
Sadly there's a school of thought in council circles that the inorganic collection is a "get out of jail free" card for people, allowing them to dispose of rubbish without having to pay in accordance with their impact on the planet.
It is illegal to scavenge from inorganic piles if you create litter or mess, or cause harm to others. It is also an offence if you are collecting with the intent to sell.
The Auckland Council is working on a waste management and minimisation plan, which may be the death knell for the inorganic collections.
My argument is that large amounts of the inorganic 'rubbish' that the council would crush is recycled, either by local residents or the people with vans and trailers who descend on a suburb at inorganic time.
This year, a family stopped outside our house to buy homemade lemonade from my son. We got chatting and it emerged that their van and large trailer-load of metal was destined to be sold to a scrap metal dealer.
The Scrap Metal Recycling Association of New Zealand says that if people provide a photo ID they can drive into a dealer with a load of metal and get paid cash on the spot. Association president Korina Munro says a tonne of steel would be worth $300 and, at the other end of the scale, a tonne of copper $9000. Inorganic collectors usually have mixed loads, which fetch $90 or $100.
Munro says too many people pay to dump their waste metal at council tips when they could give it away at a scrap metal dealer.
Finally, I'd like to thank the family in Huia St, Devonport, who offloaded a foosball table in this year's collection. My kids spotted it and I agreed to take it home. It's getting good use and will be recycled again next year for another family.