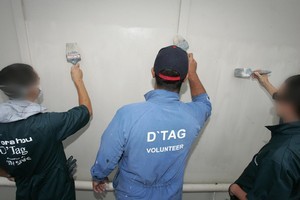 A northern resort town blighted by a graffiti attack has got its own back on the vandals after they were marched to police by their parents to confess.
Three young men owned up to defacing 27 of Waipu's shops and commercial buildings on Sunday night and Monday morning.
The trio - aged 14, 18 and 20 - were taken to the Waipu police station by their parents, who were ashamed to learn their boys were responsible for tagging the buildings and scratching shop windows.
On Thursday, all three were removing or painting over graffiti on shops in Waipu's main street and apologising to occupants of buildings they had tagged. Relatives kept them hard at work and made sure they paid attention when older Waipu residents sternly rebuked them for the tagging. "They got heaps of stick," a businessman said.
The mood of people in Waipu yesterday was far lighter than the anger and resentment expressed on Monday morning after the discovery of the destructive tagging, which had been expected to cost thousands of dollars to remove.
Waipu Business Association chairwoman Judy Guy said: "It's wonderful they have owned up and their fathers have brought them down to repair the damage. What more can you ask?"
It also means Waipu will be able to show a newly scrubbed face when the 140th annual Caledonian Games get under way today.
Waipu police Senior Constable Martin Geddes said the taggers were from Whangarei and were on holiday in Waipu, staying with relatives.
"The parents were horrified when they found out what their boys had done," he said. "But Waipu people are thrilled they have been caught and manned up. Taking responsibility is part of what the community wants to see."
The father of two of the youths said he had not got them to come forward immediately to confess because he had feared irate Waipu residents could "string them up".
"Our family is devastated by this. Waipu is our home town. My ancestors were on those boats that brought in the first settlers."
Waipu pharmacist Tony Solomon said yesterday that other "amazing" offers of clean-up assistance had come from Auckland, Whangarei and locally. "Half of the town is already cleaned up. Waipu looks alive and happy and ready for the Caledonian Games."
Pomare Pou, from the Whangarei District Council's graffiti removal contractor Te Ora Hou's D'Tag unit, offered expert advice.
Graffiti Doctor Jim Embelton came north from Hamilton to provide free help, removing several tags and promising a protective seal for the iconic Scots mural on the wall of the Waipu Butchery if it gets repainted.
Glassmasters Chris and Thomas Bennett expect to remove glass etching damage at the Waipu Library today and have offered businesses with damaged glass a discount.
The 14-year-old will be dealt with through the police youth justice system. The other two are to appear in the Whangarei District Court on charges of wilful damage.
- APN