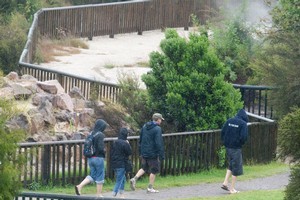 An 8-year-old boy died last night after being badly burnt in one of the geothermal hot pools at Kuirau Park in Rotorua. Photo / Rotorua Daily Post
Rotorua police have confirmed they are investigating the death of an 8-year-old boy who died from his injuries after he fell into a geothermal hot pool in the city.
The boy fell into one of the pools at Kuirau Park on Boxing Day suffering severe burns to his face and body.
He was rushed to Rotorua Hospital and later airlifted to the intensive care unit at Middlemore Hospital in Auckland.
A hospital spokeswoman last night said the 8-year-old died from his severe burns yesterday afternoon. She said his family were traumatised.
Rotorua police area commander Inspector Bruce Horne, said police are investigating the death as they are the statutory agent for the coroner, who will make a determination on the death at a later stage.
"There has been a great response to the appeal for witnesses, however, most of those that have contacted police or the Rotorua District Council have only seen the events that occurred after the boy was recovered from the pool.
We are very keen to talk to anyone who may have seen the boy and his older brother, immediately before or at the time that he fell into the pool.
"This is a tragic outcome, both for the family and all those involved. Our sympathies are with them during this very difficult time. Our aim is to complete the investigation as quickly as possible, to allow them to move on with their grief."
Authorities do not know which of the pools the boy fell into or how he fell, and are relying on his family to fill in the blanks. It is not yet known where he is from. But a hospital spokesman said on Wednesday that he was of Pacific Island heritage and his family did not speak English.
Anna Kare, who was at the park when the boy fell but did not see the incident, said he was burned head to toe and screaming in agony as a teenager carried him to his parents.
She said witnesses began pouring cold water on his body and his family called 111.
"There was screaming and yelling - it was just horrible. He would say, 'My feet, my feet,' then after the water he was saying, 'My face, my face,' then back to his hands again."
Rotorua mayor Kevin Winters said he, councillors and council staff are "shocked and saddened" by the news of the boy's death.
"The thoughts of all Rotorua residents are with the family of the boy today. It's an extremely sad way to end the year and we send our sincerest aroha to the family at this difficult time."
Mr Winters said hundred of thousands of people visit Kuirau Park every year and incidents around hot pools were very rare.
He issued a plea to parents and guardians everywhere to know where there children were at all times, especially when visiting attractions that have the potential to be dangerous.
The council's parks and recreation manager Garry Page said all the pools at the park could reach 100C - boiling point - and were fenced off for that reason.
Inspections had been carried out after the incident and the council was satisfied that the park was safe.
"It is very evident by the steam and bubbling water that many of Rotorua's pools contain very hot water. All hot pools in Kuirau Park are fenced off and warning signs are located throughout the park.
"Bystanders have reported that the youngster had climbed over a safety fence before entering the hot pool. We would be grateful to hear from anyone who can give us a detailed account of the incident so we can build a picture of what actually happened to see if there is anything to be learned from this horrific accident."
The council could not do any more about the death until someone came forward with more information.
Rotorua's hot pools have claimed several victims over the years, most recently in August last year when a 61-year-old man was found dead in a privately owned pool.
Anyone who was in the Kuirau Park area at the time the boy fell into the pool is asked to contact Rotorua police, or their local police station if they were visiting Rotorua and have now left the area.
- NZ HERALD STAFF, NZPA