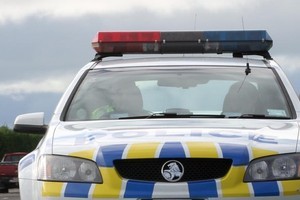 Photo / APN
Two police officers ran for their lives when a routine callout resulted in a man allegedly chasing them with a metre-long samurai sword.
The officers were responding to reports of a man lying naked and drunk on the front lawn of an Otara property.
The incident comes after four separate attacks on New Zealand police officers this month - two involving machetes.
Police Commissioner Howard Broad suggested the machete assaults could be copycat attacks.
The sword incident started when two officers found a 41-year-old man naked at a property on Larsen St.
He started putting clothes on when asked to by the officers, but while they were speaking to him he allegedly pushed them out of the way and ran into the house.
Once inside, police allege the man pulled a samurai sword off the wall and ran towards them. Senior Sergeant John Yearbury, of Counties Manukau police, said the man chased the officers 150m down the road.
"Eyewitnesses said he was about two or three metres behind them."
The officers were able to call for help over their radio but had to run straight past their car, which had a Taser inside, because the man was so close behind them.
Mr Yearbury said they stopped at a dairy on the corner of Larsen and Wymondley Rds when the man turned around and walked back up the street towards the house.
He then allegedly hit a lamp post and smashed the back and front windscreen of the police car with the sword before dropping it and being arrested by armed police responding to the calls for help.
The 41-year-old appeared in the Manukau District Court on charges including assault, wilful damage and possession of an offensive weapon. The Otara incident followed three Boxing Day assaults against police on duty in Mahia, Hamilton and Whangarei.
Two weeks earlier Senior Constable Bruce Mellor, of Waiouru, was attacked from behind with a machete and left for dead on the side of the road. Two youths, aged 14 and 18, are in custody facing attempted murder charges over that incident.
Police Commissioner Howard Broad this week said it was a "rare event" for officers to be attacked with a machete and he couldn't rule out copycat attacks.