A number of trials caught public attention in 2010. Court reporter Edward Gay revisits some of the high-profile cases.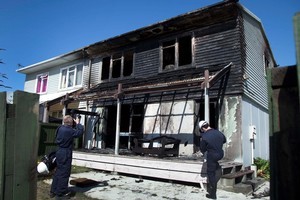 CASE 1: THE HOUSE OF HORRORS
Rebecca Chamberlain lived two doors down the street from Tisha Lowry. Both women were killed by the same man and buried in shallow graves beneath the same Christchurch house.
The plain semi-detached home in Christchurch was quickly termed the "house of horrors" as details of the grisly find became known.
Jason Somerville, 34, pleaded guilty to murdering both women and was sentenced in the High Court at Christchurch last January to life in prison with a non-parole period of 23 years.
He showed no remorse for strangling his wife, Ms Chamberlain, and his neighbour Ms Lowry.
Ms Lowry's pregnant sister, Leanne Hodder, was too upset to read her full statement to the court. She told Somerville: "I hate you with so much of myself that this hate I feel towards you is interfering with the rest of my life."
Her brother Jacob was even more scathing: "You do not deserve to be on this Earth."
Court documents showed Somerville was home alone chopping wood on September 25, 2008, when he said Ms Lowry knocked on his door and he let her in.
He said she looked at his computer and filing cabinet before he found her in the bedroom looking through his wardrobe. Somerville said he asked her to leave.
He told police that Ms Lowry refused to go and he ended up pushing her.
"I've grabbed her and I've held on to her. I've at some point laid her against the wall ... she was slipping down ... fighting me," he said.
Somerville said he held on to Ms Lowry until she "stopped fighting".
He told police in a recorded interview that he had put a pair of his wife's knickers into Ms Lowry's mouth and had sex with her corpse.
He hid her body before Ms Chamberlain arrived home.
The next morning, he sexually assaulted her body again and buried her under the house.
Nearly a year later, Ms Chamberlain suffered a similar fate.
Somerville told police he murdered his wife after she refused to have sex with him.
He said he hung on to her until she stopped breathing.
"When she finally gave up I let go ... I honestly thought she was going to be fine when I let go of her," Somerville said.
He told police he stuffed underwear into her mouth and had sex with her corpse before burying her body in a shallow grave next to Ms Lowry's.
Somerville reported his wife missing to the police but four days later confessed to murdering her and Ms Lowry.
Somerville's home was demolished in January after several arsons.
A Christchurch City Council spokeswoman said the council is in discussions with the property owners about a possible sale of the land.
A proposal could be put to councillors early in the new year.
JASON SOMERVILLE
Where: High Court at Christchurch.
When: Last January.
Charges: Two counts of murder.
Verdicts: Guilty.