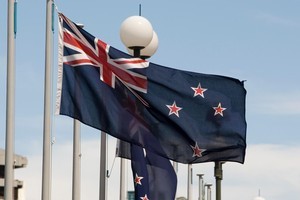 May 11, 2009
New Zealand will continue to support Amano for IAEA DG
date:2009-05-11T02:40:00
source:Embassy Wellington
origin:09WELLINGTON113
destination:O 110240Z MAY 09 FM AMEMBASSY WELLINGTON TO SECSTATE
WASHDC IMMEDIATE 5860 INFO AMEMBASSY ACCRA PRIORITY AMEMBASSY ALGIERS
PRIORITY AMEMBASSY BAGHDAD PRIORITY AMEMBASSY BEIJING PRIORITY
AMEMBASSY BERLIN PRIORITY AMEMBASSY BERN PRIORITY AMEMBASSY BRASILIA
PRIORITY AMEMBASSY BUCHAREST PRIORITY AMEMBASSY BUENOS AIRES PRIORITY
AMEMBASSY CAIRO PRIORITY AMEMBASSY CANBERRA PRIORITY AMEMBASSY DUBLIN
PRIORITY AMEMBASSY HELSINKI PRIORITY AMEMBASSY KABUL PRIORITY
AMEMBASSY KUALA LUMPUR PRIORITY AMEMBASSY LJUBLJANA PRIORITY AMEMBASSY
LONDON PRIORITY AMEMBASSY MADRID PRIORITY AMEMBASSY MANILA PRIORITY
AMEMBASSY MEXICO PRIORITY AMEMBASSY MONTEVIDEO PRIORITY AMEMBASSY
MOSCOW PRIORITY AMEMBASSY NEW DELHI PRIORITY AMEMBASSY OTTAWA PRIORITY
AMEMBASSY OUAGADOUGOU PRIORITY AMEMBASSY PARIS PRIORITY AMEMBASSY
PRETORIA PRIORITY AMEMBASSY QUITO PRIORITY AMEMBASSY RIYADH PRIORITY
AMEMBASSY TIRANA PRIORITY AMEMBASSY TOKYO PRIORITY AMEMBASSY VILNIUS
PRIORITY USMISSION UNVIE VIENNA PRIORITY
classification:CONFIDENTIAL
reference:09STATE46302
?C O N F I D E N T I A L WELLINGTON 000113
STATE FOR EAP/ANP AND OI/T MATTHEW GOLDSTEIN
E.O. 12958: DECL: 05/11/2019
TAGS: AORC, KNNP,...
?C O N F I D E N T I A L WELLINGTON 000113
STATE FOR EAP/ANP AND OI/T MATTHEW GOLDSTEIN
E.O. 12958: DECL: 05/11/2019
TAGS: AORC, KNNP, IAEA, PREL, NZ
SUBJECT: NEW ZEALAND WILL CONTINUE TO SUPPORT AMANO FOR IAEA DG
REF: STATE 46302
Classified By: Acting DCM Margaret B. McKean; Reason 1.4 (b) and (d)
1. (C) On May 8, Acting DCM met with Jillian Dempster, Deputy Director of the New Zealand Ministry of Foreign Affairs and Trade (MFAT) International Security and Disarmament Division to discuss reftel points. Dempster said that New Zealand will support Japanese candidate Ambassador Yukiya Amano in the next round of voting for IAEA Director
General, and FM McCully has so informed the Japanese government. Dempter noted that New Zealand will not lobby for Amano. Dempster said that New Zealand believes that a non-European candidate is needed as DG, given the contentious issues facing the IAEA with respect to Iran, Syria, and the NAM states. She was not certain if Amano would win in the next round of voting slated for June.
2. (C) If there is need for a third vote, Dempster allowed that New Zealand would consider other candidates, but her government is not looking at another person as a possible consensus candidate.
KEEGAN