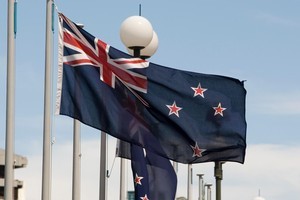 September 10, 2008
New Zealand response to action request: UN General Assembly third committee 2008 human rights priorities
date:2008-09-10T04:59:00
source:Embassy Wellington
origin:08WELLINGTON292
destination:VZCZCXRO9123 RR RUEHPB DE RUEHWL #0292 2540459 ZNY CCCCC
ZZH R 100459Z SEP 08 FM AMEMBASSY WELLINGTON TO RUEHC/SECSTATE WASHDC
5419 INFO RUEHBY/AMEMBASSY CANBERRA 5249 RUEHSB/AMEMBASSY HARARE 0005
RUEHKH/AMEMBASSY KHARTOUM 0001 RUEHVL/AMEMBASSY VILNIUS 0003
RUEHPB/AMEMBASSY PORT MORESBY 0756 RUEHGO/AMEMBASSY RANGOON 0046
RUEHUL/AMEMBASSY SEOUL 0304 RUEHSV/AMEMBASSY SUVA 0768
RUEHGV/USMISSION GENEVA 0497 RUCNDT/USMISSION USUN NEW YORK 0137
classification:CONFIDENTIAL
reference:08SECSTATE95334
?C O N F I D E N T I A L WELLINGTON 000292
SIPDIS
STATE FOR IO/RHS, PLEASE PASS TO REBECCA JOVIN, AND FOR
DRL/MLGA, PLEASE PASS TO LYNN ...
?C O N F I D E N T I A L WELLINGTON 000292
SIPDIS
STATE FOR IO/RHS, PLEASE PASS TO REBECCA JOVIN, AND FOR
DRL/MLGA, PLEASE PASS TO LYNN SICADE
VILNIUS FOR MINSK (since MINSK is suspended)
E.O. 12958: DECL: 09/10/2018
TAGS: PHUM, PREL, UNGA, NZ
SUBJECT: NEW ZEALAND RESPONSE TO ACTION REQUEST: UN GENERAL ASSEMBLY THIRD COMMITTEE 2008 HUMAN RIGHTS PRIORITIES
REF: SECSTATE 95334
Classified By: POLOFF GARY REX FOR REASONS 1.4(b) AND (d).
1. (SBU) In response to reftel action request, on September 9 poloff met with Michael McBryde, deputy director of the United Nations and Human Rights Division of the New Zealand Ministry of Foreign Affairs and Trade (MFAT). Poloff and McBryde discussed each of the U.S. priorities contained within reftel.
No-Action Motions
-----------------
2. (C) McBryde stated that NZ agrees with the U.S. position opposing no-action motions.
Country-Specific Resolutions
----------------------------
3. (C) According to McBryde, NZ agrees with and has also spoken out in favor of each of the country-specific resolutions outlined in reftel, with the exception of Belarus. With respect to Belarus, NZ is pleased with the government's release of political prisoners, but has not taken a position on any specific resolution relating to Belarus (McBryde noted that MFAT has not studied the situation in detail). With respect to Iran, McBryde stated that NZ has supported Canada's resolution in the past and plans to do so again.
Thematic Resolutions
--------------------
4. (C) With respect to defamation of religion resolutions, NZ is opposed to such resolutions according to McBryde. He said that NZ views such resolutions as a "slippery slope."
5. (C) With respect to prisoners of conscience, NZ originally joined the U.S. as one of the 64 sponsors of the UN declaration. McBryde stated that NZ would welcome the opportunity to follow-up on the declaration and he liked the ideas of highlighting the declaration at events commemorating the 60th anniversary of the Universal Declaration on Human Rights and on Human Rights Day.
McCORMICK