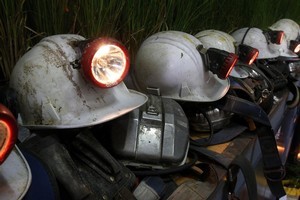 Payouts will be made to the contractors that employed the men who died in the massive explosions at the Pike River coal mine, receivers announced today.
Receivers John Fisk, David Bridgman and Malcolm Hollis of PricewaterhouseCoopers said secured creditors have agreed to pay up to $300,000 in outstanding labour costs of 13 contractors who died in explosions at the mine.
The payments will be made to five contracting companies that employed the men.
They had been at risk of ending up with nothing after Pike River Coal went into receivership on December 13.
Mr Fisk said secured creditors NZ Oil and Gas and BNZ agreed to make the payments 'ex gratia', or out of kind.
He hopes they give some comfort ahead of Christmas.
"Whilst this is an incredibly difficult time of the year for employees affected by the recent events, it is pleasing for us to have been able to make this payment prior to Christmas," he said.
"They didn't have any legal obligation to do this. They've paid out of kind."
Mr Fisk also confirmed all preferential payments have been made to employees who lost their jobs at Pike River.
No payments had yet been made to secured creditors, he said.
Employees were first in line to receive payments of up to $18,200 from Pike River receivers.
Secured creditors NZ Oil and Gas and BNZ were set to be paid the $80m owed to them next.
About $15m was owed to contractors, who were classed as unsecured creditors and seen by industry experts as unlikely to be paid.