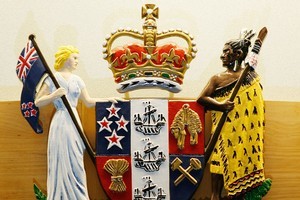 The 9-year-old girl allegedly tortured by her parents never wants to see her mother and father again - and the feeling is mutual, a court has heard.
The couple appeared in the Waitakere District Court yesterday to face 36 charges and were remanded in custody by Judge Lisa Tremewan, despite previously being free on bail.
However, both were granted name suppression to protect the identity of the girl and her younger brother, aged 7.
In seeking bail for the 32-year-old father, defence lawyer Brenda Donald said her client would not try to make contact with his daughter.
"[The daughter] says she doesn't want to see her mother and father again. He says the feeling is mutual because of what he says is the damage she has done to the family."
Ms Donald said her client denied ever hitting the girl.
"If it was done by the co-defendant - he didn't see it. It seems the offending was done by her while he was not there."
The lawyer said the parents took the girl to counselling after she had been sexually abused in the care of extended family and showed signs of being "disturbed". Submissions were made on this point in closed court before Judge Tremewan gave a brief summary to media.
Bail for the father was declined anyway.
Earlier in the day, the 30-year-old mother was also denied bail, which was met with clapping from one man in the public gallery.
The mother's lawyer, Jo Wickliffe, said the woman did not know where her children were and, if bailed, therefore could not make contact with them.
"There is a court order made a week ago in the Family Court which prevents [the mother] from seeing her children. She wanted to see them but was told 'no'. In her words: 'She won't see them again."'
Ms Wickliffe said her client had made three appearances at court since being arrested last month and could be trusted to reappear on bail.
The mother was "overwhelmed" by the publicity generated by the case, said Ms Wickliffe, particularly the Herald's front page yesterday.
However, Judge Tremewan revoked bail and remanded the woman in custody.
"At first blush, it appears the police case is a strong one. I note the police suggest some admissions have been made, although Ms Wickliffe has qualified those comments."
The judge said the police had formal statements, photographs, medical evidence and the weapons they believe were used in the assaults. She described the alleged offending as "extreme in nature, both in gravity and frequency".
The 9-year-old girl's injuries range from her scalp being torn away from her head while she was dragged by her hair along the floor, alleged vicious beatings with various weapons, and having her toenail pulled off and salt and boiling water poured on to the bleeding wound.
Her injuries were discovered when police were called to her house in November because of a domestic dispute. She was found hiding in a wardrobe with such extensive injuries the Herald understands very little of her body was not covered in bruising.
Christmas presents for the girl have poured into the Henderson police station.
Police say the generosity from the public has been overwhelming and one officer said it made her "a bit teary" seeing the gifts arrive.
The Herald has also been overwhelmed with messages of support and offers of help for the girl. Readers touched by her story have offered her and her siblings a home.
Teacher's impassioned appeal to the Prime Minister
The teacher of a tortured 9-year-old has said her pleas for help were continually ignored by authorities. This is an abridged version of an email she sent to John Key after resigning.
21.12.10
I am writing to voice my frustration and despair that yet another young child has been let down by the very agency who should have cared for her and protected her.
As a classroom teacher, I am exposed on a daily basis to a variety of issues which can, and do, affect the physical, spiritual and emotional wellbeing of some children.
This year I have had the misfortune to have to watch a child suffer constant abuse in her home and have felt powerless to do anything to protect her and keep her safe. Almost on a weekly (sometimes daily) basis, I have reported my real concerns about this child to management, who in turn have contacted the child's social worker. This child has come to school with black eyes, a swollen face, swollen nose, bruises, abrasions and infected wounds that have all been explained as her being "clumsy and accident-prone". However, she is only accident-prone at home. She has not had a so-called accident at school.
The general response has consistently been that everything in the child's home is fine and that social services are working with the mother to ensure the best outcome for the child.
Last week the child in question was hospitalised and the other children in the family taken into care (not for the first time in their short lives). What happened to this child should never have happened. The constant calls to social services from the school should have been acted upon.
Why do we have to wait for a child to be seriously injured or killed before action is taken?
Whenever you hear in the media about sick and cruel abuse meted out to yet another innocent child, the public catch-cry is always "someone must have seen what was going on, why didn't they speak out, or seek help?"
I am now left to wonder if people have spoken out in many of the historical cases of child abuse and were just not listened to until it was too late.
Constantly having my concerns about this child dealt with as if they were of no consequence was a deciding factor in my resigning from my permanent teaching position.
Why did no one listen? Who is held accountable for the unnecessary suffering of this child?
It appears no one is - she is just another statistic. I implore you to look at the procedures and processes in place so that no other child falls through the cracks and ends up in a hospital bed or the mortuary.
The Government's campaign asking people to speak out against abuse almost seems hypocritical in this instance. Please, please don't let what happened with this child continue to happen to others. Listen when someone voices a concern, especially when concerns are being constantly voiced about that child.
A young, innocent child has suffered unimaginable pain that at her age she should not have suffered. Please don't sit back and do nothing.
In your position you are able to have a much stronger voice than I can.
I implore you to use your voice to ask questions and put procedures in place to prevent this happening with another child.