Click here to read all the diplomatic cables about NZ held by WikiLeaks.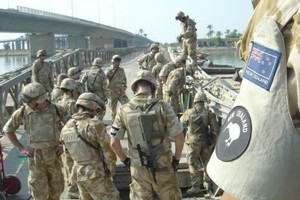 Revelations in WikiLeaks cables that senior civil servants are pushing the United States government's agenda rather than acting in New Zealand's interests are disturbing, Green MP Keith Locke says.
Among the hundreds of diplomatic cables released recently, New Zealand's anti-terrorism laws, anti-nuclear and trade policies have all been detailed.
One of the latest cables tells of how former prime minister Helen Clark decided to send soldiers to Iraq to stop Fonterra losing Oil for Food contracts.
The cable said senior Ministry of Defence (MOD) staff, whose identities should be "strictly protected", had briefed Wellington US embassy staff on a Cabinet meeting in which Miss Clark's government decided to send troops to Iraq.
"Senior MOD officials (strictly protect) tell us it was not until Finance Minister Michael Cullen pointed out in a subsequent Cabinet meeting that New Zealand's absence from Iraq might cost NZ dairy conglomerate Fonterra the lucrative dairy supply contract it enjoyed under the United Nations Oil for Food program," the cable said.
It said Miss Clark "found a face-saving compromise" by sending non-combat engineers to be embedded with British forces.
Mr Locke told NZPA it was disturbing that civil servants were sometimes acting more as agents of the US government than serving the interests of New Zealanders.
"It is apparent from the documents that changes to our anti-terrorism laws over the last few years have been driven by the US government, with the leading police and Foreign Affairs Ministry people willing partners in this process," Mr Locke said.
"Most disturbing is a report that our Defence Chief in 2006, Bruce Ferguson, seems to have complained to the Americans about our anti-nuclear policy being too inflexible. The head of the armed forces is supposed to be our most loyal citizen."
Another cable that revealed assurances from Prime Minister John Key to Chinese premier Wen Jiabao that no ministers would meet the Dalai Lama - despite a pre-election commitment to hold a meeting with the exiled Tibetan spiritual leader - showed that the National government had also misled the public, Mr Locke said.
"John Key knew that the public wanted him to meet the Dalai Lama when he came here. Yet behind closed doors he promised the Chinese premier this wouldn't happen," he said.
"This was hidden from New Zealanders firstly by Foreign Minister Murray McCully telling Parliament there was no restriction on ministers meeting the Dalai Lama, and then by ministers having their diaries full when he arrived."
Mr Locke said he was very worried by the lack of transparency in the Government.
"There is absolutely no reason for the closeness of military or intelligence relations with the US to be kept from us, just because it might embarrass the government or provoke critical public debate."
- NZPA