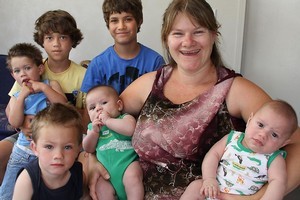 With three sets of twins and up to 16 nappy changes a day, it's little surprise Bay of Plenty wonder mum Tressa Simonsen has not got around to her Christmas shopping.
The 31-year-old, who gave birth to her third set of twins this year, has recently moved into a five-bedroom Housing NZ home in Papamoa but is finding life busy and financially tough looking after 10-year-olds Sharaz and Shaqiel, 2-year-olds Daklan and Darius, and babies Kramer and Kelly. The Herald on Sunday caught up with Tressa this week to find out how life had changed since the new twins arrived.
Asked about her daily routine, she said: "It's just kids, kids, kids.
"We have five bedrooms but the house doesn't have a garage or backyard for the boys to play. I am having to use one bedroom to store stuff because I don't have a shed."
With long-term partner Wiremu Kokiri still out of work, their biggest issue is money.
"Our finances aren't great," she said. "I am hoping to get down to my dad's [in Palmerston North] for Christmas so most of my money will be going on petrol to get down there. I have told the big boys that their Christmas presents will be going to see their granddad."
The oldest boys turn 11 in January and she hopes to get them gifts - "they don't have PlayStations or anything".
With six boys in the family, she still hasn't given up hope of adding a girl. "But I'm in no hurry at the moment. I have my hands full."