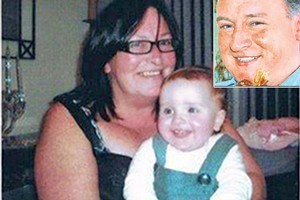 West Coast butcher Peter Lamont will spend a minimum of 14-and-a-half years behind bars after being imprisoned for life for murdering his wife Lindsay in their Ikamatua home last year.
The 48-year-old Scots immigrant sat stoically and emotionless in the High Court at Greymouth dock today, as Justice Christine French delivered the sentence.
On July 5 2009, Lamont stabbed his wife 25 times, breaking two knives and rendering a third useless by bending the blade to a 90-degree angle.
A pathologist said the victim died of "torrential internal and external blood loss".
"For all you knew, she may well have been saved if you had called an ambulance instead of going back to the knife draw," Justice French told him.
"It must have been a horrifying sight to see Lindsay's body lying on the floor of a blood-spattered kitchen."
Crown prosecutor Lisa Preston read victim impact reports from Lindsay Lamont's two daughters, Stacey, who had remained in Scotland when the Lamonts migrated to New Zealand, and Fallon, who was aged five when she travelled with them and had considered Lamont her father.
Stacey Cowan said: "I feel like my world has shattered around me and there seem no way to put the pieces back together again."
She had not enjoyed a full night's sleep since hearing of her mother's brutal death, being plagued by nightmares about "the pain and terror and the betrayal from someone mum had known for 12 years".
Fallon, now back in Scotland, had constant flashbacks "to the morning I was told by the man that I called dad that he had killed my mum".
"I was only 17 when I had to arrange my mother's funeral, pick the clothes, flowers and songs, and worst of all, pick the casket."
Lamont, who was drunk when he committed the murder, tried to end his own life by sleeping with the car running in his garage. In the morning he returned to the house, where he discovered the body and realised what he had done.
He drove 50km to Greymouth to buy a burger from McDonald's, then bought some clothesline, which he used in an attempt to hang himself, but the rope stretched.
Lamont's Catholic faith returned at that stage and he realised "the wrongness of taking the easy way out", lawyer Doug Taffs said.
Lamont phoned Fallon, asking that she meet him outside the Greymouth police station, where he confessed to her and the police, saying a veil had descended over him and he "just snapped".
Ms Preston sought a minimum term of 17 years without parole because of the ferocity of the attack and the fact that Lamont did not stop when the first two knives broke.
Mr Taffs said Lamont deserved credit for his "excessive and genuine remorse".
In a letter read to the court, Lamont said he had, "in a moment of madness, weakness and selfishness taken away everything that was good".
Justice French accepted that his remorse was genuine and reduced the minimum term from 17 years to 14-and-a-half.
- NZPA