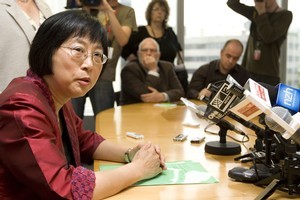 Pansy Wong has announced her resignation from Parliament saying the row over her use of her travel perk has been an unfair distraction to the Government and she wants to concentrate on her family.
At a media conference in Wellington this morning, Mrs Wong said that after 14 years in Parliament, it was the right time to step down.
She said her parliamentary career had put too many constraints on her husband's pursuits.
"I've decided that this will no longer be the case."
She said she would now concentrate of "personal and family" time.
Mrs Wong said the allegations against her of improper taxpayer-funded travel was an unfair distraction to the Government
"I strongly refute those allegations and do not want to tie up the Government's and my time continuing to do so," she said.
"I want to ensure the National-led Government can progress its agenda without unnecessary distractions."
Mrs Wong said she was not leaned on to resign.
"This is a decision I've made alone, with my family."
National Leader John Key said it was Mrs Wong's decision to step down as an MP.
"I would like to recognise the long service and dedication Pansy has given the National Party as both a Cabinet Minister and Member of Parliament.
"Her commitment to Botany and ethnic communities all over New Zealand cannot be questioned and she will be missed."
Mrs Wong said her resignation will be effective from January 17, though her salary will stop before Christmas.
She said the past few weeks had given her time to reflect on her career.
"[It has given me the chance for] the first time in 14 years I have time to reflect on my future and I've decided that my family have paid a huge price because of my all consuming political pursuits, and the National Government should not be distracted."
Mrs Wong said she hoped to deliver her valedictory speech in Parliament this afternoon.
Botany byelection
Mrs Wong said she considered waiting to resign closer to the election, but the people of Botany deserved to an MP who could give 100 per cent to those people without the distractions of the allegations.
She said some of the response in her electorate had been supportive, and some had been critical but the decision to resign was a relief.
"I'm making the right decision for the electorate of Botany."
Party whips Chris Tremain and Jo Goodhew supported Mrs Wong at her press conference this morning.
Mr Key said a byelection for Mrs Wong's Botany seat would be held on March 5.
The last day for candidate nominations to be received will be February 8, he said.
The Herald understands that former Auckland City councillor and National Party Epsom electorate chairman Aaron Bhatnagar intends to put his name forward for the nomination.
The 34-year-old Remuera resident worked as a strategist for John Banks during his unsuccessful tilt at the Super City mayoralty.
Auckland councillor Jami-Lee Ross, who represents the Howick ward in the Super City and has been touted as a possible candidate, said he would be making an announcement before the end of the year, "but I'm not in a position to comment at this stage".
Travel perk investigation
Mrs Wong resigned as a Cabinet minister last month after it was revealed her husband Sammy could have conducted private business while on a taxpayer-subsidised overseas trip.
Rules around the perk which pays up to 90 per cent of MPs' and their spouses international travel, prohibit any private business activities during trips funded by it.
A Parliamentary Services inquiry ordered by Speaker Lockwood Smith cleared Mrs Wong and her husband of any serious misuse of taxpayer-funded travel perks.
The report by former public servant Hugh McPhail found the Wongs breached rules on use of the perk just once by conducting private business during a trip to China in 2008.
It found all other trips to China, where Mr Wong's business interests were limited to a hovercraft company, were taken for personal reasons, including a June 2005 trip to Fujian province he said was taken to search for family roots and meet relatives.
Mrs Wong apologised and paid back the $474 rebate for the China trip.
However Labour MP Pete Hodgson has been pushing for the Auditor-General to carry out an inquiry into Mrs Wong and her husband's use of the travel perk.
Auditor-General Lyn Provost said last week that she was looking into the matter but had yet to decide if an inquiry was needed.
- With NZHERALD STAFF