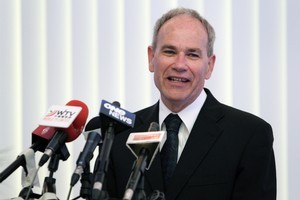 Super City reporter The Auckland Council is divided on a proposal by Mayor Len Brown to set a maximum rates increase of 4.9 per cent next year.
Mr Brown narrowly won backing for his plan yesterday after a rebellion by eight councillors who voted for a maximum increase of 3.9 per cent proposed by the right-wing Citizens & Ratepayers group.
In his first major test as mayor, Mr Brown pleaded with councillors not "to be divided on this issue", but could only muster 10 votes, including his own vote, to pass the plan.
The 4.9 per cent target is a stretch of Mr Brown's election promise to keep rates low and near the rate of inflation. It is nearly 50 per cent above the forecast rate of inflation of 3.4 per cent.
However, a 4.9 per cent rates increase is still lower than the forecast rates increases set by the former councils for next year in their long-term plans, with the exception of Manukau's 4.2 per cent increase. Residents in the old Waitakere City Council were up for an 11.9 per cent increase next year.
Mr Brown, whose job as mayor is to deliver the budget, argued at yesterday's strategy and finance committee that the maximum rate of 4.9 per cent was a responsible target and would work for a final figure of mid- to high-3 per cent. The final figure would "go down from here, not up", he said.
C&R councillor George Wood said councillors were elected on the promise to keep rates to an affordable level and they should roll up their sleeves to find the necessary savings.
The Auckland Council has inherited an incomplete set of financial books from the agency that designed the Super City.
The latest update from council officers produced a projected rates rise of 9 per cent next year. They said this could be reduced to 4.9 per cent through changes to the timing of capital projects and savings of $13 million.
The council has also been hit with a one-off 2 per cent rates rise next year to pay for Rugby World Cup projects and had new costs of $12.3 million imposed by KiwiRail towards running trains in Auckland. Despite all the talk from Local Government Minister Rodney Hide and others of big savings and efficiencies from the Super City, council officers under the leadership of former corporate businessman Doug McKay have so far only found savings of $777,000.
Pressure is coming from council-controlled organisations for unbudgeted extra expenditure spending, with the waterfront development agency first out of the blocks. It wants an extra $10.9 million over the next 20 months for operating expenditure and has drawn up a $17.2 million capital wishlist in the short term and an eye-watering $660 million long-term wishlist, including a $150 million cruise ship terminal.
Mr Brown said he knew from his early days as a councillor that if something new went into the budget something would have to come out.
"I'm confident that once the full extent of our budgets unfold we will be able to achieve a strong balanced budget at a reasonable rate," he said.
The high-level committee meeting went off the rails when three former Auckland City councillors, Cathy Casey, Richard Northey and Leila Boyle, who is now chairwoman of the Maungakiekie-Tamaki Local Board, tried to relitigate a number of old issues, including the relocation of Monte Cecilia School and an elephant herd at Auckland Zoo, to the fury of other councillors.
Deputy Mayor Penny Hulse said the meeting needed to be really clear about what it was doing, while Ann Hartley was fuming at the parochial behaviour of her left-wing colleagues.
NARROW ESCAPE
Len Brown's proposed rates increase for next year is 4.9 per cent. This is what the former councils proposed for next year:
* Waitakere City 11.9pc
* Rodney District 6.2pc
* North Shore District 5.6pc
* Papakura District 5.9pc
* Franklin District 5.5pc
* Auckland City 5.3pc
* Manukau City 4.2pc
- Figures provided by the Auckland Transition Agency, October 2010