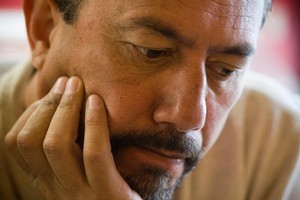 No, I wasn't expecting Mike King to be funny. Comedians are hardly ever funny in interviews; they save that for larger audiences. And of course he's had his lows which, in typically exaggerated King style, are lower and messier and more public than most people's.
He had a stroke; he suffers from ADHD and severe depression; is a recovering drug addict and - to use his own word for what may or may not be a clinical description - a recovering arsehole.
Still, he laughed only once in an hour and a half. That was at one of his own jokes from his Comedy Central Roast (December 15, 8.30pm, The Comedy Channel) which involves a sex act, another male comedian, Millie Holmes and a P pipe, and is far too rude to relate in full here. What would he do if Paul Holmes got the pip and phoned and said, "you've f***ed with the wrong guy?" This is what King infamously did in a message for Jeremy Wells after Wells ran, on his show, a cartoon of a bored dog watching King on his show. That event was the beginning of his public unravelling.
He says he was "cancer", and knew it. He banged on for a bit about being betrayed by a mate who had released the phone message. In the spirit of his recovery (and to shut him up), I said, "take responsibility, Mike".
You can say this sort of thing to him now without fearing a foul-mouthed eruption. He is now mostly measured, at least he is trying to be. You can see the effort this takes in his clenched fist and the way his face fights itself to assume a countenance of pleasantness. But he is not beyond the odd rant, or barb. And thank goodness. I was worried that he'd implode with the strain of trying to be a nice person. He said, about that phone call: "That's how I express myself". Would he now? "Um. I wouldn't leave a message." I laughed at that; he didn't. His answer, by the way, to what he might say to Holmes would be: "I'm sorry you feel that way. But it's a joke!"
Being a nice guy is his new goal - which he has approached with the same degree of commitment he does everything: his burning ambition to conquer the world of comedy, to snort cocaine, to exist in a state of self-loathing. I asked if he was sure he wasn't now addicted to being a nutter (I used a ruder term than that.) He said "No. I'm addicted to getting my life in order."
He said, "My main issue is that I want to be liked. I've always wanted to be liked." He had a funny way of going about it. He seemed to go out of his way to make people hate him. "No, I never wanted anyone to hate me." In an audience of a thousand people, he'd find the one person who wasn't laughing, and abuse them. "That was my protection. I'll throw the first punch. You think I give a f*** about what you think about me? F*** you. And that was just because I was scared of getting hit first. And, you know, I still fall into that trap every now and then. But I'm getting better."
Is he, though, getting happier? He says he's about "three-quarters of the way there". I asked if he laughed much, because we were still a long way from the one laugh of the interview.
"I laugh all the time," he said, sounding really annoyed. "Not when I've got my barrier up. Not when I've got a journalist in my face going: 'Do you? Do you? Do you?" Those "do yous", were delivered with a bit of malice, intended to make me sound like a shrill-voiced nag, but I'm afraid he just made me laugh. This is mild stuff from the former hard-hitter but it does suggest a belligerence lurking not too far from that trying-to-be-a-nice-guy surface.
I'd have thought it was harder to be an arsehole - it takes a lot of energy, for one thing. But he says, it is much, much harder to be nice. He was "really hurt" when his shrink told him: 'That's quite an ego you've got.' "I thought I was a humble guy." What was that: delusion? "Of course." The first thing he told me was that he'd just finished a tour of small South Island towns, playing, some nights, to eight or nine people and: "I appreciate it."
Some nights he makes no money. "I've done so many free gigs in the last 18 months." But why does he? "Well, three years ago, I was in such a deep hole, blaming the world for my problems, and I had a choice. I could take responsibility for my actions and get up and fight, or I could lay down and ... just be another has-been. And then I chose to look at things differently. Instead of, it was only nine people out there, and I should be angry that there are only nine, I appreciate them turning up."
He has gone back to where he started. "Oh, it's humbling. It's very humbling." Humble is not a word many people would have applied to him. "I was an arsehole and an egotistical wanker." Well, yes. But why was he? "Because I was insecure. That's me. I've always had a confident exterior and jelly on the inside. I didn't acknowledge that was there, but it was there."
He is in search of some sort of inner serenity. He says things like, "my saviour through all of this was the Dalai Lama." I may have rolled my eyes. He said: "You can roll your eyes if you want. But it's true."
All right then, he's a nicer person than me, now. But, honestly, he was a hard person to like, wasn't he? "Well, for some people. Like you!" And went on to invent an entire background for people like me, one which he meant to be insulting: That I listen to bFM; I like Hugh Sundae; I am university educated and hence think that working class people, like him, ought to be seen and not heard. I have no idea why he came up with this stuff, almost all of which is rot. "I'm generalising!"
After that I had no qualms about asking whether he was sure he wasn't becoming a therapy bore, and he said, well, I was asking him questions and he was answering them as honestly as he could. That was fair enough, although I didn't ask how many days he'd been clean. But I can tell you: "I have been clean and sober since the 1st of April, 2007. 1347 days." I don't know exactly why he counts, but he would, wouldn't he? He's an obsessive character.
He said, "I'm never going to be a born againer. I hate born againers." But he does, my questions notwithstanding, talk about his recovery all the time. "That's for me. That's my little victory and, you know what? I know a lot of people out there expect me to fail and fall over and go back." That's a defensive way of looking at it. "Of course." He's always been defensive and prickly - the difference now is that he'll admit it. He uses his defensiveness as motivation. I said that sounded like a negative motivation, then realised I was starting to sound like his shrink. That was a bad move. And I really shouldn't have asked why he had so many demons (and trust him to have more, and nastier demons that almost anyone else.)
He said: "You've got demons, Mish. What are yours?" (Mish? No, I don't know why.) I said, not wanting the interview to deteriorate into more of a pseudo-therapy session than it already was, that I certainly did not have demons. He said: "You've got plenty of them. I look into your eyes and there they are."
I could have said that my current demon was attempting to interview him when he's playing at being a shrink. He ought to be maddening (and can be) but there's something endearing about him: he's trying so hard.
He still talks some absolute twaddle. He evoked some past enmity between us, which if it ever existed, I have long since forgotten. Did I once give him a bad review? He said, airily: "I've had lots of bad reviews." I can only assume the old bad Mike had decided to go in for a kill, but the new nice Mike argued against it.
The new Mike stood up for the pigs. Is he happy about the pigs? "Yes." He went from being the face of the pork marketing board to being the face of free, happy pigs. How much credit does he take for the new pig laws? "None. I put the ball down on the line but SAFE did all the hard work."
I've never understood how he couldn't have known the pigs lived in such horrid conditions. He's always said he didn't know. Now he says, "because I didn't want to, right? I had a cocaine habit to support. I didn't know it and I didn't want to." He says he was too busy being a monster to have a conscience. Now that he does, had he thought about giving the money back? This is a stupid question on one level because he has spent all the money (about 550 grand), much of it, presumably, on stuffing white powder up his nose. But it was, I thought, a reasonable question about conscience. That earned me a rant about other celebrity endorsements gone wrong, and why didn't I go and badger other celebrities?
For the obvious reason that I was talking to him. He said, at the end, and I think this was an apology of sorts: "I know I sound really weird, eh? I am a weirdo."
He sent a text later: "Thanks for reminding me I still got a ton of stuff to work on Mish." I wasn't sure which Mike King had sent that message: The old one would have been being a smart arse. He sent another: "It was a compliment, I promise." He signed these messages with smiley emoticons which, I promise, I really did think rather sweet - and that's the last thing I was expecting to write about him.