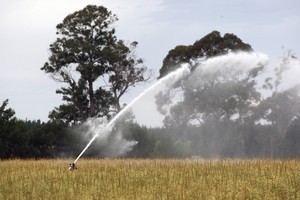 The big tease - that's how I'd describe the weather this week for those desperate for some rain.

Early indications are that we'll see a few healthy downpours in the coming week but definitely no dry breaker in sight.

The computer data I use predicts about a 40% chance of showers across many parts of New Zealand over Monday and Tuesday... and I'd say, overall for the entire week, most places have about an 80% shot at seeing some type of precipitation... either rain, showers or just drizzle.

The rain clouds have been dancing around our country for a week now - but all the lows have been skirting by to the north east or well to the south west. In fact Australia is currently being hit by major rain - with flooding in Queensland and severe thunderstorms hitting Melbourne last week. Check out this video of flash flooding that caught Melbourne motorists by surprise.

But while the rain falls over Aussie those that need rain here in New Zealand just want to know how much rain we'll get this week. My feeling is that the "lucky" ones may see up to 20mm. I very much doubt there will be any more than that. Those who aren't so lucky may only get around 5mm. The fronts delivering the rain to our country this week are very weak - and are continuing to weaken/die.

It definitely won't reverse the dry trend but it any rain will be very welcome. Even 5mm is enough for city dwellers like me to not have to worry about watering the garden for a couple of days.

So where to from here? Well the long range models that are usually accurate do seem to be showing another dry 10 days on the way...
but perhaps not as hot as it has been for some. One model even shows a low forming in the Tasman Sea in 10 days time. The only problem with the 9 and 10 day models is that they can completely reverse their prediction within a 24 hour time period. So I'll let you know in a couple of days if that low is still likely or not.

Some people have attacked me today for even talking about rain - that it's giving false hope. Well my job is to interpret everything I can and share it with you. The weather is like a never-ending story. I guess all I'm doing each day is reading you one chapter at a time. Right now the latest chapter shows the rain clouds flirting with our dry nation over the coming two weeks. We'll have to read a couple more chapters before we know if that flirting will lead to anything more serious.