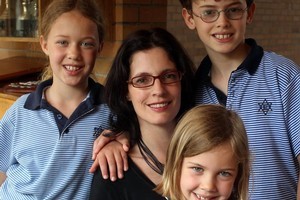 Some families will save more than $250,000 when a prominent Jewish school is integrated into the state system.
Kadimah School in central Auckland will go "public" from January, meaning its fees for pupils will drop from $11,400 a year to $500.
It is the first Auckland Jewish school to be integrated into the state system.
The school's roll has dropped to 120 from 275 10 years ago as fees became a major obstacle for families facing tougher economic times.
For a family who might put three children through the school for eight years, the new fees will mean a saving of about $270,000. Kadimah will now receive state funding of around $548,00, which is based on how many pupils it has at the school.
The school will be able to help alleviate some pressure on popular inner-city state schools being increasingly over-run by a baby boom.
New entrant numbers will rise from 57,815 this year to 65,070 by 2015, says the Ministry of Education.
The Government will allow Kadimah to integrate into the country's education system from January1, enabling the Ministry of Education to help support it financially and for the school to drop its fees to $500 per student annually.
Goldwater Trust Board runs the school.
Its chairwoman, Jenni Raynish, said the Jewish community was thrilled and she hoped it would break down financial barriers for others to flock there. She hoped non-Jewish mums and dads would enrol their children.
The school already has about 20 per cent non-Jewish families. This figure had been as high as 70 per cent in the past.
Raynish said the school had a capacity of 350.
Kadimah has a New Zealand curriculum, Jewish studies, daily prayers and songs.
Association of Integrated Schools New Zealand chief executive Pat Lynch said the school would be highly sought after, due partly to more migrants from countries such as South Africa, India and Australia.
But he said Kiwis recognised the Jewish offered quality education and many wanted values focused teaching.
There are 328 state integrated schools nationwide, catering to 87,088 students.
Since 2000, 12 schools have integrated into the state network of schools.
Special vibe will be valuable
Grey Lynn mum Tanya Thomson is ecstatic Kadimah is going state side.
The Aucklander says not only will it be more affordable to send her three children there, but it removes the financial barriers for others who have not been able to afford it.
Thomson estimates she will save about $100,000 for the years that her children, twins Sacha and Joshua, 9, and Hannah, 6, attend.
Thomson, who is Jewish, loves the special characteristics of the school and the focus on "high quality education".
She believes the school will become highly sought after by Jewish and non-Jewish people.
"The sense of community and values is something quite special - it's something every parent wants for their children," she said.