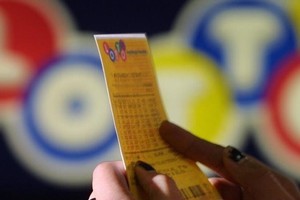 Choosing the same Lotto numbers for more than 20 years has paid off for a retired couple who have won $1 million after buying their ticket in Rotorua.
The retired couple have come forward to claim the $1 million first division prize, after hiding their winning ticket under a "heavy filing cabinet" for 11 days.
The couple, who don't want to be identified other than to say they live in the North Island, claimed the $1 million at an unnamed store on Tuesday.
New Zealand Lotteries spokeswoman Karen Jones said the couple bought their ticket for the November 20 draw at Springfield Superette & Lotto.
The couple have been playing Lotto since the game began in 1987, with a special combination of numbers.
"They were overcome that their numbers had finally come up ...
"They were glad they had stuck with them," Ms Jones said.
The couple watched the live draw on the night and realised they had all the right numbers, but then had the "longest half-hour" of their lives to find out how much they had won, Ms Jones said.
- APN