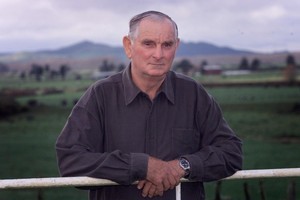 Justice Minister Simon Power has turned down calls for an independent inquiry into a 40-year-old murder mystery.
William Rowe, a spokesman for Arthur Allan Thomas, the man wrongly accused of murdering Jeanette and Harvey Crewe, wrote to the minister's office supporting calls for an independent inquiry.
In the email he wanted to know who, on the balance of probabilities, murdered the Crewes.
He also asked if there was evidence to bring charges against anyone involved in the investigation for the wrongful arrest and convictions of Mr Thomas based on the Thomas Royal Commission findings in 1980.
"I plead with you to do the right thing and order an inquiry," said Mr Rowe in the email.
"Justice is the most important thing in the world and every New Zealander has the right to have faith in the system, because it belongs to them, not the police."
In response, Mr Power said he understood the interest in seeking closure, but his hands were tied.
"Neither I nor my ministerial colleagues can direct the police to reopen the case."
"Due to the constitutional separation of powers between the executive and police, responsibility for deciding on any new investigation of the case rests with the police."
Mr Rowe believed the minister was trying to sidestep the issue.
"One ought to question why he is saying he can't do something thatwe haven't even asked him to do," he said.
"Of course he can, and should, order an independent inquiry."
"Constitutionally he [Mr Power] may be powerless to order the police around but he is not powerless to order a fresh inquiry."
Mr Rowe backed calls from Harvey and Jeannette Crewe's daughter, Rochelle, who wrote to Prime Minister John Key last month requesting that an independent body investigate the case and to Police Commissioner Howard Broad asking for the case to be reopened.
He also backed a request from Mr Thomas' ex-wife, Vivienne Harrison, who also asked Mr Power to reopen the case.
Arthur Allan Thomas was twice convicted of the 1970 murders in Pukekawa, but pardoned in 1979 after nine years in jail.
The killings remain one of New Zealand's greatest murder mysteries.
Labour leader Phil Goff joined calls for an independent inquiry. He said he understood Rochelle Crewe's desire to see someone held to account for her parents' murders.
The case will be reviewed by a senior police investigator, Detective Superintendent Andy Lovelock - who will not be looking for new suspects.
But Mr Goff said it was "not appropriate" for police to make the decision about whether a new inquiry was warranted - it should be handled by an independent body.
"I believe that if there is prima facie new evidence, the Justice Minister should put it in front of Ministry of Justice officials who are expert in this area or in the hands of a QC, so that they can assess independently whether the information merits a fresh inquiry."
A 1980 royal commission concluded that Detective Inspector Bruce Hutton and Detective Len Johnston buried a shellcase from Mr Thomas' rifle in the Crewes' garden.
An online petition, calling for an independent inquiry into the Crewe case, has attracted 78 signatures.