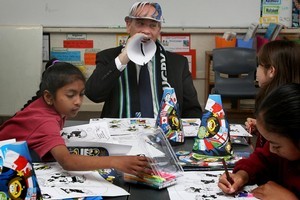 Up to 175,000 Auckland primary and intermediate school students are about to undertake an educational programme centred around the Rugby World Cup.
The $350,000 programme, which has a rugby theme but includes units in English, maths, social science, physical education and geography, was launched by Mayor Len Brown and Rugby World Cup organisers at Kelston Primary School yesterday.
Mr Brown put on a paper hat and called through the cardboard trumpet he had just made alongside excited Year 5 students.
"Yeah, Rugger, he's the man," he said, of Rugger, the New Zealand Rugby Union's mascot who was at the school.
Mr Brown is encouraging all of Auckland's 500 primary and intermediate schools to take part in the programme, which sees every student given a pack including badge, hats, stickers and other educational tools.
He said he was particularly passionate about the "adopt a second team" part of the programme which would see schools support, and possibly host, one of the 20 rugby teams in New Zealand for the World Cup.
"It's just important that the kids are totally involved in hosting the Rugby World Cup, that they understand it, that they enjoy the action.
"We don't have the deepest pockets but we have the friendly, most hospitable way and we are renowned for that globally ... The kids are going to be at the forefront of that."
Hosting teams meant children would be able to engage with players, become involved with the tournament and learn about the country the players came from, he said.
Yesterday's launch also got former All Black Inga Tuigamala back at his former primary school to present a rugby ball to principal Cliff Hughes.
The ball is one of 24 being presented to Auckland schools who will become a part of the opening ceremony at Queens Wharf.
Mr Hughes said the programme was a valuable tool for teachers.