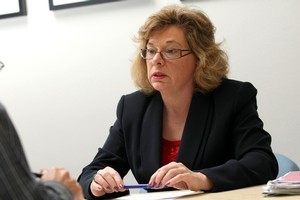 A major review of the welfare state has put forward options that could require the vast majority of sole parents, sick and disabled beneficiaries to look for work.
The review by the Government's welfare working group chaired by economist Paula Rebstock suggests that as few as 20,000 of the 144,000 sickness and invalid beneficiaries might be exempted from job-search requirements.
Sole parents could be required to look for work when their youngest children turn 3, or even 1 - both much tougher than the requirement introduced two months ago to look for work when their youngest children turn 6.
But the review also offers beneficiaries a long list of potential "carrots" to help them get and keep paid work.
All the carrots would be costly, but the report suggests that taking an "investment" approach by spending up-front could save billions in welfare bills.
The proposals range across other public services, suggesting a radical revamp of the school system to steer at-risk youngsters into apprenticeships or other practical training.
The group also suggests increasing the current five days a year of statutory paid sick leave to give employers an incentive to keep their workers healthy and help them back to work quickly if they get sick.
Social Development Minister Paula Bennett welcomed the report - especially a proposal to combine more social work support for teen parents with requirements for the teens to stay in school, attend parenting programmes and stay with either their parents or a responsible adult.
"I like the idea of some sort of frontlining and frontloading support for those that need it most," she said.
But Professor Mike O'Brien, who leads a group planning to publish an alternative report on December 9, said Ms Rebstock's group had adopted "a very strong punitive, draconian emphasis".
He said a better way to reduce welfare dependency would be to use economic policy to create jobs and invest in upskilling people so they could do those jobs.
The Rebstock report does not explicitly recommend any of the options it has put forward. It called for submissions on its ideas by Christmas Eve and will publish final proposals in February.
The report puts up options of reducing benefits for people judged to be capable of working after one year and chopping them off completely after five years, leaving them on "hardship assistance" only.
It also proposes contracting out some Work and Income services to private companies and iwi. It says 31 per cent of all beneficiaries are Maori and calls for a "strategic memorandum of understanding" with iwi leaders to reduce Maori welfare dependency, partly by developing specific programmes "by Maori, for Maori".
STICKS & CARROTS
The sticks
* Make most sole parents and the sick/disabled look for work.
* Reduce benefits for most people after one year and/or five years.
The carrots
* More specialist case managers for sole parents, addicts, ex-inmates.
* More help for childcare and after-school care.
* Reform schools to encourage apprenticeships and training.
* By-Maori-for-Maori services.
* Move part-time workers off benefits on to in-work tax credits.
* Longer sick leave to encourage employers to keep workers well.
www.ips.ac.nz/WelfareWorkingGroup/Index.html