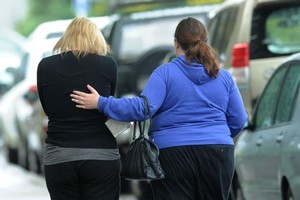 Greymouth mayor Tony Kokshoorn is calling for the names of the 29 trapped miners to be made public.
The 16 Pike River miners and 13 contractors have been trapped in the West Coast mine since an explosion just before 4pm on Friday.
Twenty-four New Zealanders, two Australians, two Britons and one South African have been out of contact since then.
Two men, who were working alone escaped the mine, Russell Smith, 50, and Daniel Rockhouse, 24.
They suffered moderate injuries but have now been discharged from Grey Base Hospital.
Daniel Rockhouse's brother, Ben, is still trapped underground.
Police are yet to officially release the names of the miners, a stance that has been criticised by Mr Kokshoorn.
"I'm all for disclosure of the names to avoid speculation. Everyone knows locally - it's not a secret and anyone could find out if they wanted to," he said.
"Everyday we don't hear a voice from down there we get more desperate. We are between a rock and a hard place and we don't know what's wrong.
"I don't see the point in keeping it (the names) secret."
He said he could see the despair on the faces of the men's relatives.
"Everyday is crucial, it's like a clock that's ticking down."
Police have defended their decision not to release the men's names until all the families of the workers - especially those from overseas - had been informed of the situation.
The decision not to name the men was also a matter of respect to them, Tasman District police area commander Superintendent Gary Knowles said.
Pike River Coal chair John Dow says he is not prepared to name the 29 trapped miners as some extended family still haven't been notified about the emergency.
"We've got people arriving in Greymouth who've only just learned and people overseas who still don't know."
Mr Kokshoorn also called for a robot to be sent into the mine to show what was happening inside.
"There's grieving people and it's a desperate situation."
But Pike River chief executive Peter Whittle said sending a robot into the mine could upset the environment and cause an explosion.
- NZPA