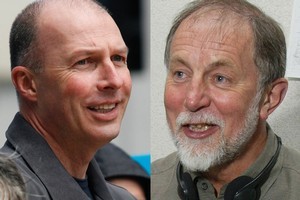 Sean Plunket sings Simon Mercep's praises. But have we wound up with two Geoffs on Morning Report?
He has done tough interviews but can he stop people from getting off the hook?
Does he have the killer instinct that made Sean Plunket one of our most effective broadcast interviewers?
Plunket has been sorely missed off Morning Report and made big waves on TV3's The Nation.
Some say old style interrogations uncover nothing.
But we need a few broadcasters who can cut through the bull. Who can we turn to?
GUYON ESPINER. THE SLOW BURNER
TVNZ's political editor is one of our smartest strategic broadcast journalists. Slowly, relentlessly, he invites subjects to reveal their views then confronts them with what that means.
PAUL "DIKSHIT" HENRY. "NEEDS A GOOD PRODUCER"
Loved and loathed for his tabloid excursions, fact is he is capable of sharp focused current affairs interviews when he has been well-produced on Close Up.
MIKE HOSKING: "AUTO FOCUS"
He uses his killer instinct sparingly - apparently aware that the tough talking interview aggravate some of the public. Organised, meticulous. Hosking's talent may be wasted on Newstalk ZB breakfast, but as TV talent he waits in the wings.
JOHN CAMPBELL: THE LOVING ASSASSIN.
We seldom we see Campbell let loose on some meaty topics. A sharp mind sometimes gets the gushing waffle of "marvellous" guests, and the trite consumer stories. But the talent is there.
MARY WILSON: TAKE NO PRISONERS.
The Radio New Zealand Checkpoint host shows no signs of having a soft touch - we seldom hear a smile sneaking into her voice while she dissects numerous breaking issues. But who else could hold together a daily current affairs show on that scale?