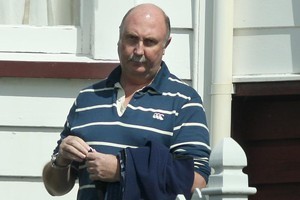 The recruitment company that shortlisted serial fabulist Stephen Wilce for a top defence job says a military court of inquiry was looking for someone outside the system to blame.
But Defence Minister Wayne Mapp has defended the inquiry, saying he would not contest its findings.
The inquiry was ordered after it was revealed Mr Wilce had lied about his background, including that he had a distinguished combat career, was a member of an Olympic bobsleigh team and had a Master's degree in astrophysics.
He was head of the Defence Technology Agency, which advises the military on technological and scientific matters, from 2005 until his resignation last month.
The court of inquiry's report was released yesterday and the head of Defence Force (NZDF), Lieutenant General Jerry Mateparae, said "dumb decisions" were made when Mr Wilce was hired.
The inquiry found the appointment process in hiring Mr Wilce was "flawed in a number of significant respects", and the decision to grant him high-level security clearance fell short because of the inadequate screening.
It said Momentum Consulting, the recruitment company contracted to shortlist candidates, had met basic standards but fell short of the level of thoroughness required in its contract with the Government.
But it also found the consultancy's shortcomings did not absolve the Defence Force of its responsibility to ensure appropriate checks were made.
Momentum managing director Bede Ashby said today it appeared on the surface that the NZDF was looking for someone outside the system to blame.
The written contract had included the requirement to undertake reference checks, but the NZDF agreed verbally with the consultancy firm that it would undertake the checks.
Mr Ashby told Radio New Zealand that was unusual and "highly prescriptive".
He said Momentum undertook checks on Mr Wilce's qualifications, credit record, criminal record and possible aliases, and "all came back clear".
"If we had have been able to carry out the full process, it would probably be pretty unlikely that Mr Wilce would have been appointed," Mr Ashby said.
"From now on, we will never ever unbundle our services, even if a client wants to do the reference checks themselves, we will do so in conjunction for them."
The firm had documentation to prove it was no longer responsible for the reference checks, but the inquiry found the NZDF own recruitment documentation had been destroyed.
"It's all very well to have a contract but if there's also supporting documentation that says the contract is varied in agreement with the two parties, then I think that needs to be out there as well," Mr Ashby said.
"I'm just looking for a more full analysis of actually what went on."
Dr Mapp said the court of inquiry had been thorough.
"Obviously Momentum have a view, the court of inquiry has examined their view and come to a finding. I'm not going to dispute the finding of the court of inquiry."
He disagreed the findings defended the system.
"They allocated blame based on the evidence they heard, and I'm not going to contest that. It's quite clear that there are deficiencies, and there are deficiencies at several levels."
Dr Mapp said he was concerned about ensuring the incident was not repeated, and that the process in hiring people to senior positions was carried out properly.
"That's the lesson to be learnt, rather than going over a re-forensic examination."
He said the inquiry's recommendations would be implemented.
They include a review of recruitment processes, strengthened guidelines for checking references and qualifications, a "whistle blower" phone number for reporting security concerns, and a formal review of the security risk posed by Mr Wilce.
- NZPA