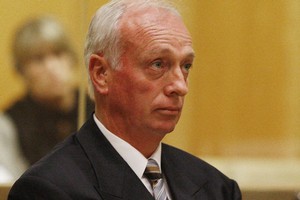 A jury has found Waikato horse breeder Greg Meads guilty of murder.
Meads, 55, has been on trial at the High Court in Hamilton for the murder of his former wife, Helen Meads, a mother of three.
Jurors were sent out to consider their verdict at 11.05am today delivered a unanimous verdict in the High Court at Hamilton today after three hours of deliberations.
Following the verdict there were gasps from the public gallery, with some people yelling out "yes!"
Laughing could also be heard from the gallery.
In his summing up this morning, Justice Chris Allan urged the jury "to assess the evidence coolly, dispassionately and, above all, fairly".
He said the onus of proof rested with the Crown.
Meads shot his 42-year-old wife once in the throat on September 23 last year at their 8ha Matamata property, four days after she told him she was undergoing counselling and wanted to leave him.
The Crown was seeking a murder conviction and argued Meads' evidence during the trial was an attempt to "rewrite history".
Meads earlier told the court he decided to confront his wife with a loaded shotgun in a desperate effort to uncover "the truth" behind their marriage break-up.
Meads arrived at the stables and found his wife on the phone and waited for her to finish the call and then shot her once in the throat at close range.
The Crown argued it was a controlled shooting and therefore murder.
Counsel for Meads, Murray McKechnie, said his client had made a very foolish judgment to take a loaded shotgun into the stables but never planned to harm or kill his wife.
Waikato police today urged anyone suffering the effects of family violence to seek help.
"Here we have a woman who has lost her life, children left without their mother and their father facing a long term of imprisonment," the officer in charge of the investigation, Detective Sergeant Rod Carpinter, said.
He said police needed society to get behind the message that family violence was not OK.
On average a woman was killed by her partner or ex-partner every five weeks in New Zealand, he said.
"Police treat domestic violence extremely seriously and work closely with partner agencies to reduce the risk of such incidents occurring but we can't do it alone."
- with NZPA