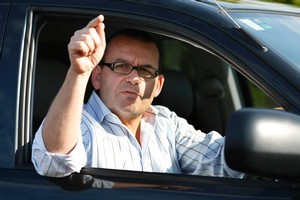 Breakfast host Paul Henry resigned after his comments about Sir Anand Satyanand. Photo / File
TVNZ's complaints committee has upheld the flood of complaints over Paul Henry's questioning of Sir Anand Satyanand's ethnic suitability to be Governor-General, acknowledging his remarks "encourage discrimination".
Fifteen hundred people complained to the state-owned broadcasting company over Henry's remarks about Sir Anand and his mocking of the name of Delhi Chief Minister Sheila Dikshit, of India. Another 100 complained purely about the name ridicule.
TVNZ communications manager Megan Richards said last night the company sent the committee's findings to the complainants yesterday.
A copy of one of the two letters, given to the Herald by a complainant, says the committee agreed that Henry's comments on the Breakfast programme on October 4 breached standards covering good taste and decency, fairness, and discrimination and denigration.
In banter with Prime Minister John Key on the show, Henry asked if the next governor-general would be someone who was "more like a New Zealander".
Sir Anand, of Fijian-Indian ancestry, was born and raised in Auckland.
As the public furore unfolded, Henry was suspended without pay - "unprecedented in the history of TVNZ", the committee says - and later resigned.
The letter lists these events - and TVNZ's and Henry's apologies and TVNZ's starting a review of editorial policies and code of conduct for presenters - as being among the actions taken to address the breaches of programme standards.
The TVNZ committee added its own apologies over Henry's governor-general remarks, TVNZ's initial defence of Henry, and his sniggering use of Sheila Dikshit's name.
The committee said that although TVNZ spokeswoman Andi Brotherston's statement - that one of the things viewers loved about Henry "is that he's prepared to say the things we quietly think but are scared to say out loud" - was not covered by the Broadcasting Act's complaints process, it was a "hasty and unconsidered comment". It had compounded the offensiveness of the original broadcast.
"The complaints committee agrees that Paul Henry's comments would offend and distress a significant number of viewers and accordingly upholds that Standard 1 was breached.
"The committee also notes that Sir Anand Satyanand felt compelled to issue a statement in regard to his nationality because of the broadcast ... the committee finds that the statements in Breakfast were unfair and this was recognised in Mr Henry's apology.
"The statements and the inference behind them encouraged discrimination against New Zealanders who are not of a particular ethnicity [even though the comments relating to Sir Anand Satyanand were incorrect]."
Any complainants who are dissatisfied with the findings have 20 days from receiving yesterday's letters to refer the matter to the Broadcasting Standards Authority.
Authority chief executive Dominic Sheehan is overseas and did not know if the authority had received any referrals from complainants dissatisfied with TVNZ's actions.
If it did receive referrals and decided a stronger response was needed, it could impose a $5000 fine on TVNZ or force the Breakfast programme off air for a time.
THE FINDINGS
Regarding the Governor-General and Delhi's Chief Minister, Paul Henry breached three programme standards:
*Good taste and decency
*Fairness
*Discrimination and denigration
*TVNZ spokeswoman Andi Brotherston's defence of Henry's comments about the Governor-General was "hasty and unconsidered".