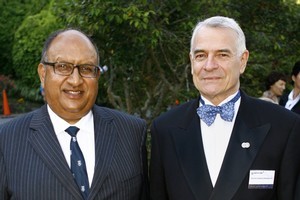 Retired New Zealand Court of Appeal judge Justice David Baragwanath has been named as one of four appeal judges, set to preside at the Special Tribunal for Lebanon (STL) in a United Nations court operating under international law.
Justice Baragwanath will serve alongside Lebanese judges Ralph Riachy and Afif Chamseddine, and a Swede, Kjell Erik Bjorberg, in the appeals chamber of the UN court, headed by an Italian judge, Antonio Cassese.
The special tribunal is tasked with investigating the 2005 assassination of former Prime Minister Rafik Hariri, who was killed when a car bomb tore through his motorcade near Beirut's downtown, killing him and 22 others.
The United Nations investigation initially implicated high-level Lebanese and Syrian security officers in Hariri's killing. Damascus denied involvement. Four pro-Syrian Lebanese generals were detained for four years without charge in connection with Hariri's killing. They were released in 2009 after the STL said there was not enough evidence to indict them.
Yesterday the STL president, Mr Cassese named Justice Baragwanath to the appeals bench to examine the appeal filed by STL prosecutor General Daniel Bellemare regarding former General Security chief Jamil as-Sayyed.
Sayyed was arrested in 2005 on suspicion of involvement in the assassination and was released in 2009. In March 2010, he requested that the STL give him access to files of investigators who targeted him so that he can take legal action against witnesses he says gave false testimony against him.
Another STL judge, Daniel Fransen, ruled on September 17 that Sayyed has legal standing before the court, and at the end of September, General Bellemare appealed that ruling, with a counter appeal by Sayyed. Justice Baragwanath will help rule on these appeals.
Recent reports have indicated that the STL is gearing up to indict Hizbullah members in the crime, the Daily Star newspaper in Beirut reported. The issue has caused heightened tensions in Lebanon.
For reasons of security, administrative efficiency and fairness, the tribunal has its seat outside Lebanon, in Leidschendam in The Netherlands.
In 2007 UN Secretary General Ban Ki-Moon estimated that the STL would cost US$120 million ($158.45 million) over three years.
Justice Baragwanath - a former Rhodes Scholar appointed a judge in the High Court in 1995, and a judge of the Court of Appeal in 2001 - retired in July, and at a valedictory address at Auckland Law School, he questioned whether it was possible to globalise the law.
A former president of the New Zealand Law Commission from 1996 to 2001, he said the nation's domestic law needed to protect and enhance what was distinctive to New Zealand, and identify and adopt ideas from elsewhere that were suited to local conditions.
"In this globalised world ... there is often no bright line between the domestic and the international. Each can and should inform the other," he said.
- NZPA