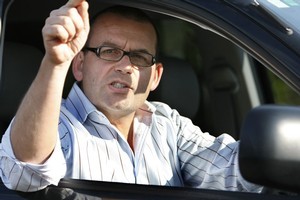 A migrant services group is calling on companies to withdraw advertising from TVNZ's Breakfast show after Paul Henry's on-air slur.
Henry was suspended for two weeks after asking Prime Minister John Key if Governor-General Sir Anand Satyanand was "even a New Zealander" and whether the next governor-general would "look and sound like a New Zealander".
The comment has sparked a record number of complaints to TVNZ and drawn criticism from the Race Relations Commissioner, politicians, ethnic and community organisations and thousands of people who have posted comments on websites.
Complaints have also been received about another recent Breakfast episode where Henry worked himself up into a fit of laughter over the name of Delhi Commonwealth Games Chief Minister Sheila Dikshit.
In between laughter, Henry last week referred to the minister as "dickshit", despite having been told her name was pronounced "dixit". He also appeared to make a slur against Indians in general.
The Times of India website reported that when asked for a reaction to the controversy, Mrs Dikshit said she was "too busy to notice".
The Auckland Regional Migrant Services (ARMS) today said Henry's "insensitive and xenophobic comments" would be viewed negatively by many migrants to New Zealand.
Acting executive director Lawton Hakaraia called on people to write to companies that advertised on Breakfast, to ask them to withdraw their advertising if Paul Henry kept his job.
"TVNZ must take full responsibility for what has happened and investigate and address the comments made by Henry, to ensure that such bigoted, ethnocentric remarks have no place on state-funded television," Mr Hakaraia said.
He said Sir Anand had been a patron of the ARMS Charitable Trust since 2005, and had generously supported and contributed towards the services it provided to migrants and refugees across the Auckland region.
"This kind of statement is demeaning to the office of the Governor-General," he said.
Meanwhile, a TVNZ public relations manager has apologised to colleagues for her response to media after Henry's comments on Monday.
In a Leaked email Andi Brotherston apologised and admitted she had "made an horrendous error of judgement".
Brotherston said Henry was prepared to say the things "we quietly think but are scared to say out loud".
In the leaked email she said, "In hindsight it seems unbelievable that I didn't seek a second opinion ... or even pause for breath but I didn't and only have myself to blame."
Brotherston said her comments were wrong and she accepted full responsibility.
She offered to resign but her boss declined to accept.
Messages streamed in to the TVNZ website yesterday, and while Henry has generally been taking a slating over his comments, there were also messages of support from people referring to complaining "do-gooders".
Some said people were being too politically correct and that they would not watch Breakfast until Henry returned, while others said they had already switched off and wouldn't tune in again if Henry returned.
Henry apologised on air after making the comment and, while he has shown some remorse, he lost his cool when he came across reporters waiting outside his North Shore property on Tuesday, directing a tirade of expletive-laden abuse at them.
Sir Anand, who was born, educated, worked and lived in Auckland, has been diplomatic about the incident, but agreed Henry had crossed the line.
On Facebook, the "Paul Henry" page has 53,112 members, the "Bring Back Paul Henry" page has 15,827 and the "TVNZ sucks for suspending Paul Henry" page has 4,512, as of this morning.
The "F*** you Paul Henry" group has 1,426 members and the "I am boycotting TVNZ until they sack Paul Henry" page has 2,329 fans.
- NZPA with NZHERALD STAFF