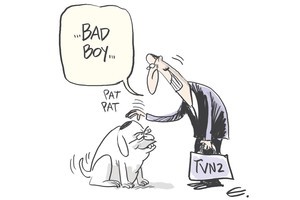 TV presenter Paul Henry was under increasing pressure last night over comments he made about Governor-General Sir Anand Satyanand, with a dozen complaints and the Race Relations Commissioner saying an apology from him did not go far enough.
Henry has said sorry for comments he made yesterday on TVNZ's Breakfast show that suggested Sir Anand's successor should look and sound more like a New Zealander.
Henry made the comments while questioning Prime Minister John Key.
"Are you going to choose a New Zealander who looks and sounds like a New Zealander this time ... Are we going to go for someone who is more like a New Zealander this time?"
Mr Key seemed taken aback and said that Sir Anand was a New Zealander.
About 3.30pm, TVNZ issued a statement in Henry's name apologising to the Governor-General "for any offence I may have caused".
TVNZ said it had received a dozen complaints and a formal process was under way. Henry would continue his hosting duties, including This Is Your Life this weekend.
But Race Relations Commissioner Joris de Bres said last night that the apology was not good enough, and should be aimed at all New Zealanders.
"When you say, 'I'm sorry if I offended you', it makes it sound as though the person who was offended is at fault."
The question had to be asked whether TVNZ was using Henry "as a shock jock and whether that is appropriate for a national state television current affairs programme".
"Television New Zealand probably has some responsibilities as a public broadcaster."
Mr de Bres said Henry often said things to challenge or shock people "but this one was off the planet".
"What he was saying was that if you were an Indian New Zealander and you were born here, you went to school here, you went to university here, you practised law here, you became a judge, you became an ombudsman and you became a Governor-General, that a key presenter on national television still thinks you don't look like or sound like a New Zealander."
Mr de Bres said Sir Anand probably knew Henry well enough to ignore his comment, "but I know that it does have an impact on other Indians and other New Zealanders".
TVNZ issued a separate statement defending Henry - a release that Mr de Bres said was more "discouraging" than Henry's original one.
Issued by spokeswoman Andi Brotherston, it said: "The audience tell us over and over again that one of the things they love about Paul Henry is that he's prepared to say the things we quietly think but are scared to say out loud."
Green Party human rights spokesman Keith Locke said Henry's apology fell "well short of the mark".
"He has not recognised that his comments were deeply insulting. It was not good enough for him to simply say he regrets it 'if my comments have personally offended Sir Anand'," said Mr Locke. "Television NZ cannot sidestep this one, as it has done so far."
Henry's comments also caused outrage among the Indian community.
Auckland Indian Association president Harshad Patel said: "It's insulting and racist. New Zealand is a multicultural country. What is the interpretation of what a New Zealander looks and sounds like? It's almost anti-Indian or anti-ethnic."
Mr Patel said Henry's remarks were insulting not only to Indian people, but to all people, no matter what their background.
"[Indians'] contribution is huge. You look at business, and students coming from India - they're doing good for New Zealand. You want to see things that bring people together, not remarks like these which separate."
Veteran media commentator Brian Edwards said it was as if Henry had a policy of offending people. "It's just the latest and probably the most offensive of a string of remarks he has made, to the point that offending people is a policy of this presenter."
Dr Edwards said Henry's apology was the "characteristic" template he used when apologising to people.
"Paul is constantly using 'If they take offence, then sorry'. There's no way around this. This was really a racist remark."
Dr Edwards said he was a good friend of Sir Anand and found the comments "doubly offensive" for that reason. "He couldn't talk about a more delightful, charming and wonderful born and bred Kiwi."
Dr Edwards said TVNZ should look at itself and ask whether it was worth keeping Henry. "He's offended a whole lot of people before, but they weren't in the same calibre as Sir Anand."
At his post-Cabinet press conference, Mr Key did not criticise Henry or say he should apologise, confining his comments to the presenter being incorrect and a "shock-jock".
He added that the Governor-General was a fine New Zealander.
In his statement, Henry said: "I am aware that Sir Anand has made an outstanding contribution to New Zealand.
"Anyone who knows anything about me will know I am a royalist, a constant defender of the monarchy and the role the Governor General plays in our society.
"If my comments have personally offended Sir Anand, I regret it deeply."
Sir Anand is at the Commonwealth Games in New Delhi. His spokesman said he did not want to respond "because to do so would give them a status they don't really deserve".
- additional reporting: Vaimoana Tapaleao