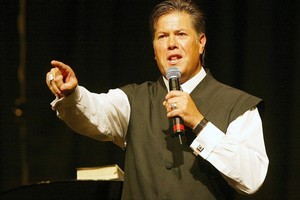 An American who travelled to New Zealand to spread the word of God - and whom Brian Tamaki called his "spiritual father" - has been accused of sexually assaulting young men.
Bishop Eddie Long is a well-known preacher in Atlanta who built one of America's most widely known black megachurches, the New Birth Missionary Baptist Church.
The married father of four, who has strongly campaigned against same-sex marriage, is having to defend himself after he was accused of using jewellery, cars and money to lure three teenagers into sexual relationships.
Bishop Long is expected to speak out about the lawsuits filed against him this week by three men who say they were coerced into sexual liaisons by the pastor.
The men, who were 17 or 18 years old at the time, were enrolled in the church's ministry for teen boys.
It is believed the teenagers travelled to places where Bishop Long was preaching, including New York, Las Vegas and New Zealand.
In October 2003, Bishop Long and his wife Vanessa travelled to New Zealand after Destiny Church leader Bishop Brian Tamaki invited him to speak to church members here.
Bishop Tamaki referred to Bishop Long as his "spiritual father" in his book Bishop Brian Tamaki - More than meets the eye.
In the book, a picture of the two shows them wearing similar vests and T-shirts, with the caption beneath it reading, "With my spiritual father, Bishop Eddie Long ... Atlanta, USA, September 2004."
In a chapter titled "Spiritual Father - a long time coming", Bishop Tamaki talks about a meeting between the two in 2002.
"The instant that Bishop Long walked into the room our spirits connected without having said a word.
"I was a little taken aback by his embracing nature and the manner with which he greeted each and every one of us as if we were long lost brothers."
Bishop Tamaki wrote that he and his wife Hannah invited Bishop Long to travel to New Zealand to speak to Destiny Church followers. He accepted.
"I was impressed, yet the ease of our connection and the confirmation of a date was entirely in line with Kingdom principle - when God speaks, do it," the New Zealander wrote.
The chapter goes on to say that Bishop Long invited the Destiny Church team, which was made up of Bishop Tamaki, his wife and other delegates, into what he called his "favourite room", which was his prayer chamber.
Last night, Bishop Tamaki was not available for an interview, but a media spokeswoman said he was aware of the issue and would most likely want to make a comment today.
Bishop Long, who was appointed pastor of New Birth in 1987, claims athletes, politicians and entertainers as members.
President George W. Bush and three former Presidents visited the sprawling New Birth Missionary Baptist Church in the Atlanta suburb of Lithonia for the 2006 funeral of Coretta Scott King, widow of the Rev Martin Luther King jnr.
Bishop Long introduced the speakers and the Rev Bernice King, the Kings' younger daughter, delivered the eulogy. She is also a pastor there.
Today, New Birth has more than 25,000 members, a US$50 million ($68 million), 10,000-seat cathedral and more than 40 ministries.
B.J. Bernstein, a lawyer representing the plaintiffs in the sex case, said she opened her investigation after getting a call from one of the men.
She said she didn't trust local authorities to investigate the claims.
"This is a really large church that's incredibly politically powerful," Ms Bernstein said. "There are pictures of this guy with every politician around"
Bishop Long has been silent and so are most his 25,000 followers. But those who do speak up say they support him.
- ADDITIONAL REPORTING: AP