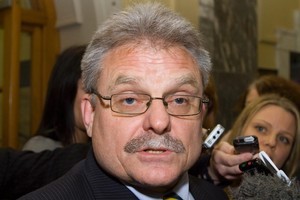 The revelation that Act's hardline law and order spokesman MP David Garrett created a false identity by applying for a passport in the name of a dead child in the 1980s has invoked a strong reaction from NZ Herald readers.
Years later Garrett was arrested as part of an investigation into bogus passports. He was discharged without conviction and given name suppression - which he's now applying to have lifted.
Act leader Rodney Hide has defended Garrett, saying he disclosed the conviction before joining the party and that he should be judged on his "outstanding" record as an MP.
Garrett was also convicted of assault in 2002 after an altercation outside a bar in Tonga.
Many readers are now questioning whether he is an appropriate spokesman for law and order.
In a Herald poll asking "Should Act's David Garrett stand down as an MP?", 84 per cent of the 7000-plus voters responded yes.
And on our Your Views forum, many readers voiced similar sentiments.
Margot said Garrett "had to go".
"We all know it. In fact all people with convictions should be barred from political parties", she wrote.
Act voter Andrew also weighed in: "Garrett is an embarrassment and should never have been in the ranks. Sort yourself out ACT or we wont be seeing you following the next election."
Reader mchaggis called the whole thing a sham and a farce. "Garrett should be sacked immediately. At the same time Hide should also be dismissed from Parliament for covering this fact up and not making Garrett's conviction public!"
Aaron, a Kiwi now living in the US, wrote: "I find it ironic that 2 years ago I was removed from my position at WINZ over convictions I received over 23 years ago, however an MP convicted of the horrific crime of identity theft from a dead child is granted name suppression and can keep his job as Law and Order spokesperson for the Act Party. So, he can be an MP and get paid a good salary by all the honest taxpayers in New Zealand, he just can't get a job at WINZ?"
John reckoned some hard and fast rules needed to be introduced. "Perhaps criminal convictions should preclude individuals from being considered in the first place. And perhaps any conviction after appointment should mean immediate dismissal - no interpretation required."
Nan agreed, saying: "Any member of the "public" service who is paid by the taxes of the majority must be beyond reproach. Ask anyone who once was a public service' pleb who was instantly dismissed for crossing the line - no matter how small the mistake."
Said topbrick: "What a hypocrite. He should resign immediately. Imagine the furore there would be (and finger pointing from ACT, the hard line law & order party) if a Green MP was found to have broken the law by applying for the fraudulent passport?"
Wayne reckoned "perhaps the mindless "three strikes and you're out" law Mr Garrett was pushing for offers some help to us in determining whether he should still be the ACT spokesperson for law and order. By my count that's two strikes against him in the last day. One strike to go, David."
Ray offered a slightly different view. "Maybe David Garrett, in proposing his "three strikes", has carefully planned so as to have one up his sleeve?"
Mark asked why Garrett didn't destroy the passport after obtaining it. "I feel there is more to this than is being told and I hope he goes, along with Hide...This is identity theft, not just a false passport being obtained in the USA he would be jailed, as he should be here."
On Facebook, John Irvine said: "If anyone else had done that they'd go to prison. So should he."
And Nicholas Smeaton reckoned he got off lightly. "I know of someone else who pulled the same trick as Mr Garrett - he didn't get off so lightly and was very fortunate to avoid a prison sentence (he didn't get name suppression either). While I accept that it may have been a youthful prank ...Garrett has promoted himself as the 'law and order' politician and to do that successfully you either have to be either squeaky clean or completely honest about your past. Garrett failed on both counts and has undermined his own status as a politician."
But some thought Garrett has merely been the victim of a "beatup".
RichMac said: "If it's good enough for the court to discharge him without conviction and permanent name suppression who are we to conduct the witch hunt? Leave him alone."
John said: "While I may not like Mr Garrett and I certainly don't favour the Act Party, I don't condone the media and public habit of "hunting and shooting down" public figures for minor transgressions.
"Be fair, look at the specific charge in this case and the resulting $10 fine. It arguably was self defence and even though he was convicted the magnitude of the fine indicates it was not serious. Why would anyone want to put themselves forward for public service in this petty environment?"
Davedog thought the conviction had been blown out of proportion. "We are not talking about some malicious criminal act here, we are talking about a confrontation that escalated, someone's work against someone else's, and a dubious conviction in a 3rd world country."
And Hugh wrote: "We have a Minister of Work & Income who was on benefits, so why not a spokesman for Law & Order who has an assault conviction? The best gamekeepers are reformed poachers as the saying goes.