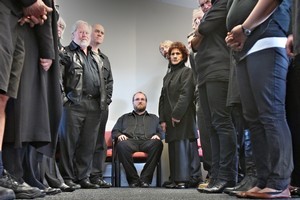 New Zealand teachers are some of the lowest paid in the OECD, despite working more hours than most of their overseas counterparts, an international report reveals.
The annual Education at a Glance report, which compares the education systems of the 29 countries in the Organisation for Economic Co-operation and Development, found that after 15 years' experience, a New Zealand teacher made $10,000 a year less than OECD counterparts on average.
They also started on an average of $10,000 less than Australian counterparts and earned up to $82,000 less than those in top-paying Luxembourg.
The findings come as secondary school teachers go on strike today while talks with the Ministry of Education remain at a stalemate.
Teachers, who plan to hold pickets and rallies around the country, want a 4 per cent increase and a "genuine commitment" by the ministry to address class sizes and teacher retention and recruitment.
The OECD report found that in most countries, pay rose according to the level taught, with some upper-secondary teachers earning up to 25 per cent more than a primary school teacher with the same experience.
But New Zealand was one of a handful of countries where the contrast between upper and primary teachers' salaries was less than 5 per cent.
Another finding in the report was that New Zealand teachers put in far more hours each year than their counterparts in most other countries.
Only Mexico and United States teachers worked more hours.
"The figures in the report can't be ignored if the Government is serious about closing the pay gap and ensuring our teachers stay in New Zealand," said NZ Educational Institute president Frances Nelson.
"John Key talks about building a successful economy, but you can't do that without proper investment in education."
The report found that New Zealand spending per student was 24 per cent below the average.
About 81 per cent of total education expenditure was found to be funded by government sources, slightly below the OECD average of 82.6 per cent.
Ms Nelson said New Zealand had a world-class education system which depended on the quality and commitment of its teachers.
"We need to make teaching as attractive as possible so our teachers feel valued and have their skills recognised. They need a reason to believe the grass is always greener at home."
Other report findings include:
* More under-5-year-olds are in early childhood education and more adults are in post-secondary education than the OECD average. But NZ has one of the lowest enrolment rates of 15- to 19-year-olds in secondary education.
* Despite having a high entry into tertiary education, NZ has one of the lowest percentages of entrants who complete their programme.
* It also has an unusually high proportion of part-time students, particularly at older ages and vocational levels.
* NZ has a high rate of tertiary-qualified adults but one in five adults aged 25-34 does not have a Year 12-equivalent school qualification.
* More students come to NZ for tertiary study than leave to study overseas. Fewer than 5000 Kiwis were studying overseas, nearly half in Australia.
RALLY PLANS
* Wellington - Rally at Parliament 12.30 to 1.30pm.
* Auckland - Rally at noon at Albert Park, local area pickets/rallies in the morning. March down Victoria/Queen Sts ends at QEII Square at 3pm.