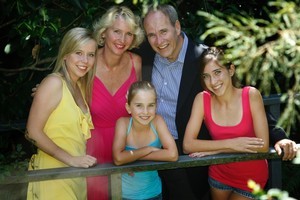 The Manukau mayor fared best out of four major candidates in a poll done by the World Wide Fund for Nature on the critical environmental issues facing the Super City.
Mr Brown was the only candidate who emphasised that Auckland's planning should be underpinned by environmental and social principles.
If elected, he said, he wanted to use Waitakere's "Eco-city" policy as a model for the entire Super City.
WWF questioned the top four polling candidates - Mr Brown, John Banks, Andrew Williams and Colin Craig - on sustainable transport, marine protection and sustainability and climate change policies.
Mr Brown said he had a strong environmental record as Manukau mayor. His council had overseen the first extension to Auckland's rail network since the 1930s.
He said urgent rail development was essential, as Auckland's population was expected to reach two million by 2031.
The completion of rail networks was a popular policy among candidates, but only Mr Brown and Mr Williams mentioned a commitment to the other pillars of sustainable transport - more buses, and better walking and cycling options.
Mr Banks emphasised the importance of integrated public transport, rail electrification and a third harbour crossing with rail, as well as increased ferry services.
He also pointed out that there was "not a bottomless pit of money", and said improved transport would depend on the funding and effectiveness of the new council-controlled organisations.
He said his encouragement of bus lanes highlighted his seriousness in getting more cars off Auckland roads.
"My opponent has attacked me over bus lanes despite them getting thousands of people out of their cars and into public transport.
"Mr Brown tries to position himself as a eco-friendly candidate yet he has just 3km of bus lanes in his city - how is that environmentally-sustainable thinking?"
Businessman Colin Craig was the only one of the four to commit to spending more on public transport than on new roads.
Mr Brown also scored well in marine protection. He emphasised the need to prevent land pollution reaching waterways, and advocated protection for coastlines and foreshore.
WWF said the area in which all mayoral candidates scored poorly was in committing to protecting the Super City from the effects of climate change.
Executive director Chris Howe said cities around the world were looking to adapt to predicted rises in sea levels and temperature increases.
"With the creation of the Super City, this is the ideal opportunity to look at the region-wide impacts of climate change and make sure the city is future-proofed against them."
SEE ALSO www.wwf.org.nz