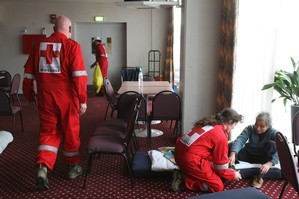 Thousands of people from around the world have given money to help those affected by the Canterbury earthquake.
About $3.5 million has been donated to the Canterbury Earthquake Appeal through the New Zealand Red Cross.
Spokeswoman Rosemarie North said the charity had been overwhelmed by donations gifted by New Zealanders, but also from Britain, Australia and the Cook Islands.
"The Red Cross is extremely grateful for the donations people have given. It's very meaningful and shows people are still as giving as ever," she said.
* To make a donation to the Canterbury Earthquake Appeal, go to www.redcross.org.nz or call 0900-33-200 to make an automatic $20 donation.