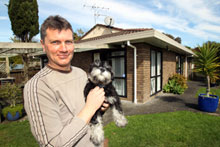 The Christchurch earthquake has proved that no home - regardless of type or age - is safe from the forces of nature. But there are things you can do to minimise the damage.
Action on previously unknown faultlines and repeated aftershocks have left thousands of Canterbury residents wondering what - if anything - they could have done to prepare their homes.
Older brick homes took a particular pounding but even new places in some exclusive suburbs buckled under the pressure.
Earthquake Commission-trained building inspector Peter Wei examined four homes in Auckland at the request of the Herald on Sunday to see what improvements could be made to make them safer in a natural disaster.
Wei, from The NZ House Inspection Company, found none of the houses was perfect, and each of our homes could be improved.
His main concerns were concrete chimneys, unrestrained hot water cylinders, poor foundations and concrete tiled roofs.
Homeowner Gavin Irving was praised for having a secured hot water cylinder but was concerned about the concrete tiles on the roof of his Avondale house.
"You often feel that you could cope, but it's not until you're put in that situation you know whether you will," he said.
Wei was pleased to see extra reinforcing of the piles under an Onehunga villa, but added: "It's good, but not enough."
He was also critical of the villa's ornate original fireplaces in two of the bedrooms, often a feature kept by villa owners.
Wei pointed out that the chimneys were only covered by gib board on the inside, meaning the chimney bricks could topple into the room in a quake.
An Onehunga ex-state house was criticised on several fronts, partly for an external water cylinder that was not secured by a brace and strap, and also because of a "big and thin" chimney on the roof.
Able House Inspections owner Chris Underwood has received calls from five Auckland homeowners since the earthquake, all querying the stability of their home's foundations.
Underwood, who has inspected more than 8000 homes in his 30 years' experience, believed most Auckland houses "would be in big trouble" in an earthquake because they didn't have the correct foundations.
Villas especially were at risk because they had shallow wooden piles, usually made out of totara or puriri that could have rotted, and were attached with nails that could have rusted.
"I would say that all homes built before 1960, if they're on concrete pile foundations, would suffer," he said.
By Anna Rushworth

Email

Anna