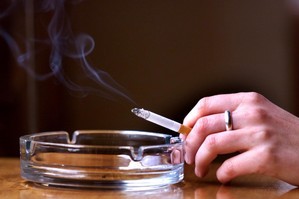 Legislation to ban tobacco advertising at the point of sale will be debated in Parliament after it was picked yesterday in the ballot of private member's bills.
Labour's associate health spokesman, Iain Lees-Galloway, hopes the Maori Party will support his Smoke-free Environments (Removing Tobacco Displays) Amendment Bill.
"I know that Tariana Turia supports banning point-of-sale advertising and I hope she will use her position as co-leader of the Maori Party to encourage all of her MPs to vote in support of the bill," the Palmerston North MP said.
"There is considerable overseas evidence that banning point-of-sale advertising can help reduce smoking rates.
"Labour supported the National Party when they raised taxes on cigarettes and now I hope they will support yet another measure to reduce smoking," Mr Lees-Galloway said.
Action on Smoking and Health director Ben Youdan said he hoped the bill received widespread support because removing displays would help people quitting smoking and protect children from tobacco marketing.
Maori Party MP Te Ururoa Flavell's Gambling (Harm Reduction) Amendment Bill was also drawn from the ballot.
It aims to crack down on gambling harm by allowing communities to reduce or eliminate poker machines from their areas, introduce player tracing and pre-commit cards and ensure pokie profits are put back into the communities.
"Gambling harm destroys families, threatens relationships and undermines community wellbeing and it is time this country's lawmakers got serious about it," Mr Flavell said.
"We [the Maori Party] will be applying the same passion on this issue that we have on tobacco because this is a social hazard that Maori and the nation can do without."
Labour MP Phil Twyford's Depleted Uranium (Prohibition) Bill was also picked. It seeks to ban uranium from all conventional munitions and armour.
Another measure drawn was Labour MP Brendon Burns' Environment Canterbury (Democracy Restoration) Amendment Bill, to force elections for Environment Canterbury. Labour disagreed with the decision to replace the regional council and put control in the hands of commissioners.
- NZPA