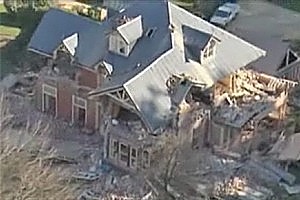 One of the casualties of yesterday morning's massive Canterbury earthquake was the historic Deans family homestead in Homebush.
Footage taken from an nzherald.co.nz helicopter flight showed the house practically in ruins, with severe damage to the upper storeys and roof and bricks strewn around the property.
The north Canterbury homestead was built in the late 1800s and is a category two registered historic place. It has been in the Deans family, who were among the first Pakeha permanent settlers in the Canterbury region, for six generations.
Parts of the 2005 film The Lion, the Witch and the Wardrobe was filmed at the sprawling property.
- NZ Herald staff