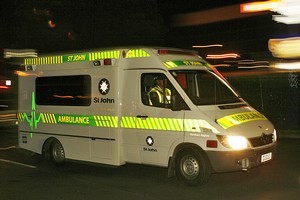 Steady numbers of people with mainly minor injuries have been going to Christchurch's medical centres today following the massive earthquake that hit the city early this morning.
Christchurch's three after-hours surgeries - the 24 Hour After Hours Surgery at Bealey Ave, Moorhouse Medical Centre and Riccarton Clinic - were seeing steady numbers of patients but were coping well, Canterbury District Health Board spokeswoman Michele Hider said.
"As emphasised by Christchurch Mayor Bob Parker today, health issues relating to water and sewerage are now the most pressing," Ms Hider said.
Buildings crumbled throughout Christchurch and in rural Canterbury, crushing cars and closing roads, yet only one serious injury was reported, a man in his 50s who is in intensive care in Christchurch Hospital. A second man suffered serious cuts, and many had cuts, scratches and broken limbs.
People with minor injuries were advised to care for one another, and visit one of the after-hours surgeries if they need more urgent medical assistance.
People should only visit the Emergency Department at Christchurch Hospital for medical emergencies, although there had been steady numbers of arrivals with mainly minor injuries as a result of the earthquake.
The number of cardiology admissions to the hospital was higher than normal, she said.
The central hospital was functioning well and fully staffed, but damage done to Canterbury's other hospitals was still being assessed.
Burwood Hospital's water supply had been restored, and water was running as usual at Christchurch Hospital, but extra water was being supplied at Hillmorton and The Princess Margaret Hospitals.
Christchurch and Burwood Hospitals were no longer using generators for electricity, and mains power was expected to be restored at Hillmorton and The Princess Margaret Hospitals later this afternoon.
Ambulance services were functioning as usual.
However, Lincoln Maternity Hospital and Burwood Birthing Unit will be closed until further notice.
Women who had been intending to have their babies at the units have been advised to go to Christchurch Women's Hospital.
Emergency social workers were working with patients, particularly the frail elderly.
- NZPA