Do you have any information about the crash?
Contact us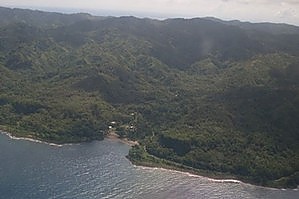 The New Zealand High Commissioner and Australian government officials are on their way to a remote plane crash site in Papua New Guinea where one New Zealander and three Australians died.
High Commissioner Marion Crawshaw and Australian officials from the High Commission in Port Moresby flew early this morning to Misima, in Milne Bay Province, on PNG's southern tip where a chartered Trans Air plane slid off a wet runway and burst into flames yesterday afternoon.
The plane's New Zealand co-pilot is the only survivor and is in Misima Island's hospital.
Australian Foreign Minister Stephen Smith confirmed three Australians and a New Zealander died while one New Zealander survived the crash.
The surviving New Zealander, an Australian permanent resident, received heavy bruising but was conscious and able to talk, he said.
A hospital spokeswoman confirmed the co-pilot was a patient but was unable to provide nzherald.co.nz with any information about his condition.
A government official in Port Moresby told AAP they wanted to get the survivor to a major centre as soon as possible.
Eliuda Killion, who works at Misima Island's guesthouse close to the accident site, said a group of people, including the Australian and New Zealand High Commissioners, had today arrived on the island and would be staying at the guesthouse.
They were currently at the hospital visiting the sole survivor of the crash, she told nzherald.co.nz this afternoon.
She earlier told the The Australian newspaper a rescue team, including local police and government officials, had tried to help but been unable to do so because the "plane had lots of flames and fire".
"When they got there, there was not much they could do because the plane was already on fire."
One of the fatalities was 61-year-old marine pilot Chris Hart, of Sydney, who was a passenger on board the jet, Brisbane-based Australian Reef Pilots confirmed.
He was on his way to guide a ship from Misima, about 500km southeast of Port Moresby, through the Great Barrier Reef.
New Zealand's Ministry of Foreign Affairs and Trade said it was seeking further information.
Misima police Chief Sergeant Moses Hilibobo told The Australian last night: "According to eyewitnesses, the plane landed, couldn't brake and crashed into palm trees. It was a small twin-engined jet.
"Four people were killed - actually they were burnt in the flames when it (the plane) crashed on landing."
The sole survivor, thrown clear when the plane crashed, was believed to be the co-pilot, Mr Hilibobo said.
Trans Air, which runs a charter and medivac service in PNG, is linked to the now defunct Australian airline Transair, which went into liquidation after a 2005 crash at Lockhart River in north Queensland in which 15 people died.
In August last year 13 people were killed in a PNG plane crash, including nine Australian Kokoda Track trekkers.
PNG's rugged landscape and unpredictable weather makes for incredibly tough flying conditions but a lack of institutional support for aviation safety has also plagued the industry.
A commenter on Misima Island's Facebook page suggested the bad condition of the island's airport could have contributed to the crash, which is thought to have been caused by the plane sliding off the wet runway on landing.
"Grass is as tall as the cockpit and algae's growing right into the terminal, no maintenance," said the comment, made under the name 'Misima Island'.
- NZPA / AAP / NZ Herald staff