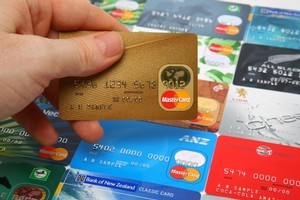 Former Telecom chief executive Theresa Gattung wouldn't put flowers for a colleague on her work credit card. And more than one business lunch in three weeks is "not legitimate".
Telecom's former boss is unlikely to be pulled up for inappropriate credit card use.
Now chairwoman of Wool Partners International, Gattung said the recent scrutiny of credit card spending in the public sector had brought the issue to "everyone's attention" in the private business sector.
"If you are spending someone else's money - it doesn't really matter if it's the company's money or the taxpayer's money - then there's a high standard of responsibility."
Statistics from the Reserve Bank show debt on company credit cards has not grown anywhere near the levels of personal debt in recent years. However, that is likely to be because fewer workers have company cards and businesses pay debts quicker to avoid interest charges.
Gattung said companies needed good processes in place for acceptable spending, but some top executives have different views on that. Flowers sent to a work colleague were a case in point.
"Personally I think that [sending flowers] is right on the borderline. It's a personal sign, it should be paid for personally. These things are a slippery slope," Gattung said.
Businessman and accountant John Judge, a director of Fletcher Challenge and chairman of both ACC and Te Papa, said an "appropriate" bunch of flowers sent to a colleague who was ill or suffering a bereavement was acceptable.
Both Gattung and Judge agree that charging lunch with a business associate to a company credit card was legitimate. And, Judge said, a reasonably priced bottle of wine was also acceptable.
"Certainly not a $200 bottle, that wouldn't be acceptable. Would you expect two people to have three bottles of wine? Absolutely not."
At business lunches Judge paid for the wine himself.
"That way I can drink what I like and not be criticised ... and anyway [ACC and Te Papa] are public money."
Charging expenses to company credit cards was a matter of "judgment and degree," Gattung said. "One lunch every so often could easily be legitimate, if you are doing it every three weeks it's not legitimate."
For advertising guru Mike Hutcheson the end of the long, leisurely business lunch is a tragedy. Hutcheson said the Government should be subsidising, not taxing, the long lunch because that was where good ideas happened and relationships were built.
Advertising agency HKM (Hutcheson, Knowles, Marinkovich) was dreamed up over a "very long lunch" at Sails Restaurant, he said, and the late Sir Ron Trotter came up with the idea for Fletcher Challenge over "a few drinks" on a plane.
A two-hour business lunch was necessary to get everyone relaxed and the ideas flowing. To criticise the company-paid business lunch was the "politics of envy", he said.
Accountants now spent so much time "penny pinching" that business had "lost its joy", Hutcheson said.
"I lament the long lunch. They are where the best ideas developed. I've never seen a good idea come out of the boardroom."
Business diners eat faster, drink less and go back to the office
In city centres around the country, restaurant and bar owners are lamenting the end of the long lunch and the loss of the company credit card.
In Auckland, restaurants report a drop of at least 25 per cent in corporate business.
The working business lunch still happens, it is just squeezed by both money and time pressure.
Restaurants still doing well in Auckland often offer two courses for a reasonable price and guarantee diners to be in and out in an hour.
Philip Clark, operations manager for Euro Restaurant on Auckland's Princes Wharf, has seen a change from the all-afternoon lunch with expensive wine flowing to "a more affordable option".
Operations manager for the Viaduct's Soul Bar and Restaurant, Geeling Ng, agreed there was now "more of an eye for the total". While Bluff oysters might still be ordered in season, they were accompanied by a "$40 bottle of wine rather than a $140 bottle". She compared that to the 80s - "a lot of Bollinger and a lot of oysters".
Soul could get business diners in and out in 45 minutes if need be, she said. Two hours was considered a long lunch these days.
Ex Telecom Theresa Gattung recalls the long lunch being a feature of her early corporate career at TVNZ. "Have lunch, come back at 3pm ... [80s] corporate culture definitely."
Rob Tillotson, chief financial officer for Clemenger Group, remembers the days of the long Friday lunch when it was pointless to try to catch a business person in the office.
The mid 80s introduction of fringe benefit tax "changed everything overnight". Company credit cards and cars were abolished.
In excess: Public sector credit-card spending
* Labour MP Shane Jones: admitted watching pornographic movies and raiding his mini bar, charging it to his ministerial credit card.
* Trade Minister Tim Groser: charged up a $460 mini-bar bill, cigarettes, jacket and walking boots after losing his luggage.
* MP Chris Carter: charged two massages and flowers for his partner's birthday.
* Former minister Phil Heatley: refunded more than $1000 after admitting treating National Party delegates to food and wine and taking his family on holiday.
* Hastings Mayor Lawrence Yule: spent $1571 on a thank you dinner in London.
* Kapiti Coast District Council chief executive Pat Dougherty refunded nearly $500 worth of expenses after admitting they were "inappropriate".
* Taupo District Council chief executive Rob Williams: his credit card was used to buy Dave Dobbyn and More FM rock concert tickets for staff, $1850 was spent on T-shirts and $258 on a handbag for a departing staff member.