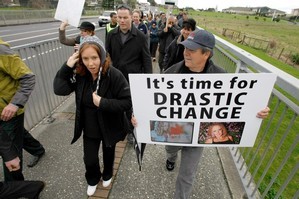 Amy-Rose Allen was a beauty show contestant with a not-so-hidden - and ultimately fatal - secret.
The 22-year-old alcoholic fell victim to what her parents described yesterday as New Zealand's "widely accepted" binge-drinking culture.
Three months ago, her life support was switched off after she was partially flung from the car she was driving drunk in a crash south of Morrinsville.
Ms Allen's grieving mother and stepfather, Catherine and John Peary, yesterday drove to Auckland from their Hamilton home to add their voices to the hundreds who gathered in three anti-alcohol marches that merged at Manukau Square.
Mrs Peary said her daughter had been convicted for drink-driving three times and was before the courts for a fourth offence when she died.
The family will never know if any law changes might have saved her life, but do not want any other families to be left asking such questions.
Mr Peary said one of the main problems he could see was that alcohol was so accessible now.
"Why is it that a generation is growing up as binge drinkers? You've got to consider that when we were growing up, it was [age] 21 to drink."
The couple hope that tighter restrictions around alcohol may go some way towards changing the binge-drinking culture they feel is entrenched here.
"She was in beauty competitions, she was a very attractive girl and very talented. She was amazing ... people loved her," Mrs Peary said.
"She was just a warm person but she had a drinking problem. They [drug and alcohol experts] said to me, 'Wait until they're ready'. Well, I've got a different story now. Don't wait ... don't wait for them to die.
"The money I spent on her funeral I would gladly have spent to wake her up [to her alcoholism]. She couldn't control her drinking."
Mrs Peary said the family had sought help after Amy-Rose accidently fell three storeys from an Auckland building during a night out drinking four years ago, suffering serious head, chest and leg injuries.
She and her friends had won a $100 drinks tab at a backpackers' bar, but were told they "had to drink it there and then".
"She had already been drinking," Mrs Peary said. "That's why she got so intoxicated. These people making money, they are making money at the expense of lives."
Mrs Peary said the alcohol had taken over her daughter's life, so much so that she had no longer been called upon to work as a casual for the Matamata-Piako District Council.
"She was the life of the party. To look at, you would think there was nothing negative in her life. Even her friends did not see what we saw.
"She had a sad existence in the end," Mrs Peary said.
Yesterday's marchers called on the Government to adopt Law Commission recommendations including lowering drink-driving limits, lifting the purchasing age to 20 and limiting liquor promotion and advertising.
The protest came only weeks after the Government chose not to lower the drink-driving limit, saying it wanted more research on the topic.
Addressing the rally, Labour Party leader Phil Goff called on the Government to translate the commission's report into legislation.
He said the report provided a once-in-a-lifetime opportunity to take action that would reduce alcohol abuse.
Mr Goff also called on the Government to support Labour MP Darren Hughes' bill to lower the drink-drive level from 0.8 grams of alcohol per 100 millilitres of blood to 0.6.
Professor Doug Sellman of the National Addictions Centre said if the Government's recent performance on drink-driving was anything to go by, the signs were not good.
"They appear to be framing the heavy drinking culture as a youth problem, and they are calling for more research to delay measures that would actually make a significant difference."
Major Campbell Roberts of the Salvation Army, which helped to organise the rally, said the Government needed to stand up against an alcohol industry that had an inappropriate influence on decision-makers.
"We're worried that the decisive and determined support that we expected from politicians for these excellent Law Commission recommendations has not been decisive and determined, it's been dithering and duck shoving."
The tragic cost of booze
* King's College boarder James Webster, 16, was found dead on May 9, after drinking heavily outside an Auckland party the night before.
* Warren John Jenkins of Orewa was nearly two times over the blood-alcohol limit when he crashed his four-wheel drive ute into Katherine "Rin" Kennedy's car on March 17. The Kerikeri mother died in hospital.
* Luke McGregor was over the legal breath-alcohol limit when he killed his younger brother Jordan, 23, in a "car-surfing" accident on Mt Maunganui beach in February.
* Frances Stubbs was over the breath-alcohol limit when the car she was driving fled a Blenheim police checkpoint on March 19 and crashed into a vehicle driven by Penelope Phillips, who died.
- additional reporting: NZPA