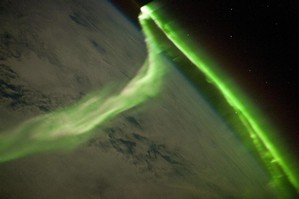 American scientists say they have recorded evidence in New Zealand of the onset of a new cycle of solar-terrestrial activity.
The key results being reported by researchers from Boston University's Centre for Space Physics that they have deal with the fact that recent aurora australis displays at high latitudes - ones visible to the naked eye - are accompanied by far less luminous glows in the atmosphere at lower latitudes.
"It's exciting to see the return of aurora to mid-latitudes," New Zealander Dr Steve Smith said, referring to the periodic occurrence of emissions in the Earth's atmosphere that have intrigued observers from ancient to modern times.
What has fascinated space scientists in recent years is the delayed onset of such effects. Typically, the sun has an activity cycle of about 11 years, with flares and ejections of electrically charged particles (called the solar wind) that cause changes in the Earth's magnetic field that produce, as a side product, luminous emissions in the atmosphere.
Such effects are subdued during so-called solar minimum years (in 1996-1997) and prominent in solar maximum years (such as 2001-2002). The onset of a new wave of such activity had been expected to be well under way by 2009, but the sun remained surprisingly quiet.
There are finally signs of the cycle re-appearing according to observations made by the Boston University team using an all-sky camera located at the Mt. John Observatory near Lake Tekapo.
"This is essentially a fish-eye lens that is used to view the full sky, and the images are captured with a very sensitive digital CCD camera," said Jeffrey Baumgardner, who designed and built the instrument.
Dr Smith, who is a senior research scientist in the university's Centre for Space Physics, said the emissions being studied came from regions ranging from 200-400km above the surface of the planet.
"These gases are caused to glow by energy input from above, energy that flows downward along the Earth's magnetic field lines."
The curtains of glowing gasses capable of being seen by the human eye have long been called aurora borealis when near polar regions in the northern hemisphere, and aurora australis in southern polar regions, but emissions not visible to the naked eye come from regions more distant from the poles than where classic aurora occur.
The sensitive camera picked up a faint arc that extended from east to west just south of New Zealand, captured in the red glow of oxygen atoms being hit by a steady influx of hot electrons in the Earth's ionosphere. Such features are called "stable auroral red" (SAR) arcs and form an active topic of current research in space physics.
"This image of a SAR arc from New Zealand is perhaps the first-ever case of imaging an unambiguous SAR arc in the southern hemisphere," Michael Mendillo, Professor of Astronomy at Boston University, said.
- NZPA