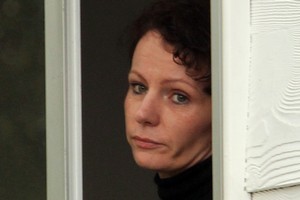 The former prostitute and recovering drug addict who had a steamy relationship with Wanganui Mayor Michael Laws says she dumped him after being told he was seeing "several" other women.
Mother-of-three Jackie Sperling, 39, said until yesterday she believed Laws was having multiple liaisons at the time of their brief relationship because people had been telling her that.
Laws has adamantly denied that he betrayed her and claims stories of other lovers were spread by political enemies in Wanganui.
He said his opponents had turned Sperling against him and threatened legal action against four people he believed were the source of the stories.
Wanganui mayoral candidate Jevan Goulter claimed last night that he was sent eight pages of documents by Sperling detailing the former couple's entire email and text contact.
The Herald on Sunday has confirmed the correspondence between Goulter and Sperling in which Laws' sex life is discussed.
The newspaper has chosen not to publish it.
Laws broke news of his relationship on a Radio Live show on Friday. He said he was going public with the relationship after being threatened that salacious texts and emails would be leaked to media.
When contacted that night, Sperling said that she had broken up with Laws because she suspected he was seeing other women.
"I ended the relationship over a week ago because I did not believe he was being honest with me regarding other relationships in his life," she said.
"I had hoped to remain friends, however he chose to decline my offer of friendship. I am not a slapper and my only remorse is that the relationship did not end amicably." She said Laws had not correctly represented the nature of their relationship when speaking about it on television news on Friday.
"He is trying to divert attention from other stories regarding him, his other relationships, and council business."
But yesterday Sperling changed her position and said she had a "new-found respect" after receiving an apology from Laws.
Speaking at her home in Auckland's eastern suburbs, Sperling said: "I would hope that I will remain friends with Michael.
"I admire him because he has to go through this every day of his life. He is a good man. I just want to get on with my life.
"Nothing will come in the way of my recovery. I didn't want any of this. I have spent the past 18 months trying to be a good mother and setting a good example to my children and this sort of attention is not what I want them to see. We were two consenting adults who started a relationship. I don't see what the problem is.
"The texts and emails weren't that explicit, they were just the normal things that people say when they are in a relationship."
Family of Sperling said yesterday she had been a typical middle class Kiwi mother before drifting into P addiction and prostitution.
The Herald on Sunday has learned that she worked as a prostitute under the name Anita Johnson in Great South Rd in Greenlane, Auckland.
Sperling's former mother-in-law, who asked not to be named, said Sperling had got involved with drugs in the early 2000s. She said Sperling had taken up with a new man - who she subsequently married - and her life changed shortly after. "She is trying hard to be a good mother," she said.
While on home detention for a drug offence Sperling became a prolific blogger, writing extensively about her battles with drug addiction and working in the sex industry.
In one entry, she told how she had been drugged by a notorious sex predator which left her "vomiting blood".
Earlier this year, Sperling told Radio Rhema she had found God and was leading a new life after being convicted of possession with intent to supply methamphetamine.
It was while she was serving the home detention sentence that Sperling contacted Laws after listening to a Radio Live programme he made on drug rehabilitation.
They arranged to meet for "coffee" and Sperling said there was a mutual attraction. They saw each other twice and exchanged emails and texts over several months.
Last night Laws said he had no regrets about publicising the relationship, even though Sperling had no intention of making the texts public.
He said he had received a series of email and text messages making threats to expose details about his private life.
Laws said: "My intention is to take the emails, texts and a series of electronic transfers and give them to a lawyer.
"The way they targeted Jackie Sperling was unconscionable. Local body politics can be acidic. I think Jackie's story is fascinating and in a way inspirational."
Laws said he broke up with partner Leonie Brookhammer eight months ago. However, in March he claimed they were still in a relationship.