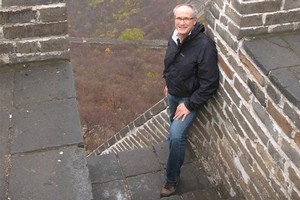 The whereabouts of missing Air New Zealand pilot Steve Morrissey remain a mystery after police said a hat found on Sunday was not his.
Mr Morrissey, 51, was last seen on Wednesday while tramping on the Wilson Trail in the hills of the New Territories in Hong Kong.
Although he is said to be fit and trained in survival skills, there are growing concerns for his safety after six days missing.
Air New Zealand says police have worked through all options to try to track the cellphone Mr Morrissey had with him, but have not had any success. It is believed the battery is now likely to be flat.
A 200-strong search team, including abseiling specialists and tracker dog teams as well as boats and helicopters, was due to return to the trail area yesterday, as well as to the village at the end of the track.
Air New Zealand chief executive Rob Fyfe said yesterday that there were no fresh leads but the search on the ground continued.
Mr Fyfe said Air New Zealand crew in Hong Kong wanted to help find Mr Morrissey "in any way they can".
Last week, Mr Morrissey's family joined the search with Air New Zealand crew and police.
"They [airline staff] feel a connection as his colleague and a sense of helplessness," Mr Fyfe said.
"One of their colleagues is missing and they want to help. The police have been knocking door to door with a photo of him. The time that has been allocated to this is huge. I have nothing but compliments for the [Hong Kong] authorities and their high level of commitment.
"There is concern he has not been found, that there is no evidence he was there. He was off duty while in the company's care, so there is a sense of community in the company [to find him].
"It does make me proud [as chief executive] that the crew are searching with the authorities. There is genuine distress."