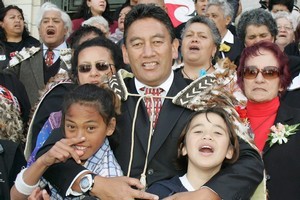 The Human Rights Commission says Maori Party MP Hone Harawira needs to consider whether his personal feelings are helpful to race relations.
Mr Harawira said in a Weekend Herald interview he would not feel comfortable if one of his seven children brought home a Pakeha partner, and believed many Pakeha would feel the same about Maori.
Race Relations Commissioner Joris de Bres said members of the public had contacted the Human Rights Commission about the remarks.
He said Mr Harawira's comments reflected an "unwelcome prejudice" toward Pakeha, adding that census statistics on babies' ethnicities contradicted Mr Harawira's views.
Two-thirds of Maori babies, half of Pacific babies, and a third of Pakeha and Asian babies belonged to more than one ethnic group.
"Hone Harawira is the only judge of whether or not he feels uncomfortable in particular situations," Mr de Bres said.
"He is not urging anyone else to react in the same way, but as a MP, he needs to consider whether the impact of sharing his private feelings on such matters is conducive to providing positive leadership in race relations."
National MP Tau Henare called Mr Harawira's comments racist and stupid, while Prime Minister John Key said the comments were "unfortunate and ridiculous".
Maori Party co-leader Pita Sharples said the remarks were not racist and probably mirrored the feelings of many people.
Dr Sharples, whose father was English, said Mr Harawira was entitled to his own view but it was not that of the party.
"I think it's just not divisive at all. It's a view point."
In the end it was up to the children who they married, he said.
Asked if he was worried by Mr Harawira's frequent media outbursts Dr Sharples said it "keeps everyone alive and awake".
- NZPA