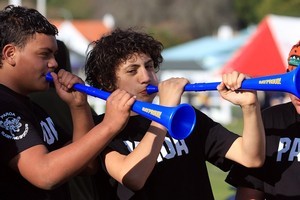 It won't only be mooloo bells setting rugby fans' ears ringing tonight at Waikato Stadium as the Bay of Plenty Steamers fans head over the Kaimai Range.
Forget the drum roll, they're not coming quietly for the local grudge match. They're coming armed with - ear-plugs please - vuvuzelas.
Possibly lots of them.
Steamers management have ordered 1000 of the 60cm plastic trumpets which sports journos moaned about through the Football World Cup.
Ruined the spectacle, they said, and probably their hearing as well as the African horns emit 120db of B-flat musicality.
Earlier in the week, the Steamers' Dirk Merwe told the Bay of Plenty Times the vuvuzelas were ordered long before they became famous.
"It wasn't until the World Cup that we sat there thinking 'Oh my God, what have we done?' Obviously they're popular with the kids, which is a big thing for us but we just need to make sure they're not going to annoy too many people."
He couldn't be contacted last night to see if they'd arrived yet.
Warren "Possum" Allen knows a thing or two about noise.
Every home game, hail or shine, the Waikato super-supporter and local celebrity gets into his cherry picker, parked outside the stadium, and lets rip with his chainsaw.
The Weekend Herald asked Possum, who also wears a Davy Crockett furry hat to games, whether mooloo bells were about to get a run for their money as fan instrument of choice (or torture, depending on how you look at it).
Mooloo bells, traditionally painted in red, yellow and black did wonders for the ear drums, he reckoned.
"You hear that mooloo, olé olé olé and the bells. No comparison. It lifts the spirits.
"Could a 1000 vuvuzelas drown out mooloo bells? Possibly, but mooloo bells are solid, we could always use them for clubs," he joked.