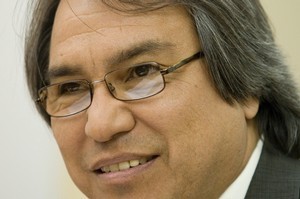 Extreme social and economic disadvantage faced by Maori has been highlighted as an ongoing concern by a United Nations indigenous human rights expert during his visit here.
UN special rapporteur on indigenous human rights Professor James Anaya spent last week here to review issues reported by his predecessor, Rodolfo Stavenhagen in 2005, and made some initial observations before returning to the United States to work on a full report.
"I cannot help but note the extreme disadvantage in the social and economic conditions of Maori people, which are dramatically manifested in the continued and persistent high levels of incarceration of Maori individuals," Prof Anaya said.
"These troubling conditions undoubtedly result from the historical and ongoing denial of the human rights of Maori, which must continue to be addressed as a matter of upmost priority."
On a positive note he welcomed New Zealand's recent endorsement of the UN Declaration on the Rights of Indigenous Peoples and said good progress was being made with Treaty of Waitangi settlements.
"The treaty settlement process is clearly one of the most important examples in the world of an effort to address historical and ongoing grievances of indigenous peoples, and that settlements already achieved have provided significant benefits in several cases."
But he noted complaints about the treaty settlement process that were similar to those reported by his predecessor. "These include complaints about the inherent lack of bargaining power on the part of Maori in the settlement negotiations, the resulting lack of settlement outcomes that provide full and adequate redress to Maori grievances, and policies that restrict the transference of lands back into Maori ownership or control."
Prof Anaya last week noted the fact the Maori Party was now a government partner.
"On the face of it that's a positive development," he said. "It brings its own set of issues perhaps. I'm trying to be open to various points of view on that, but it seems to be a very positive thing and you don't see that very commonly in other countries."
He said it would take a few months to compile a full report on his findings.
- NZPA