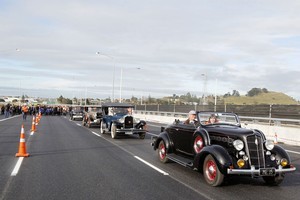 Motorists in Auckland are set to benefit from reduced journey times to and from the airport after the new duplicate Mangere Bridge across Manukau Harbour was officially opened today.
The New Zealand Transport Agency (NZTA) and the Manukau Harbour Crossing Alliance completed construction of the 650 metre-long bridge seven months ahead of schedule.
People were given the chance to walk and cycle the new bridge today before it opens to motorway traffic.
The $230 million project, together with the existing bridge which opened in 1983, increases capacity on the Southwestern Motorway (State Highway 20) to 10 lanes across the Manukau Harbour - with eight lanes for general traffic on the bridges and two shoulder lanes for buses.
The duplicate bridge is on one of the country's most important routes, NZTA chief executive Geoff Dangerfield said.
"The additional traffic and bus lanes will reduce congestion, and shorten travel times for commuters, visitors and exporters who depend on travel reliability to get to the airport.
"Time savings of up to 20 minutes are expected for journeys between the CBD and the airport at peak," he said.
The duplicate bridge has a fourth southbound lane dedicated to local traffic between the communities of Onehunga and Mangere Bridge. The existing bridge beside it will be refurbished to carry four northbound lanes.
On Tuesday morning, the first two lanes of southbound traffic will be shifted on to the new bridge. The existing bridge and the approaches will then be refurbished and finalised, with the entire motorway upgrade completed by the end of August.
The Manukau Harbour Crossing project also includes pathways for walkers and cyclists around the harbour, a cable bridge spanning the motorway to connect communities in Hillsborough and Onehunga, plans for a new footbridge over busy Onehunga Harbour Road, and the project's site office at Mangere Bridge will be restored to a park again.
The Manukau Harbour Crossing is part of the southern end of the Western Ring Route - a 48 kilometre alternative to SH1 running between Manukau and Albany.
- NZPA