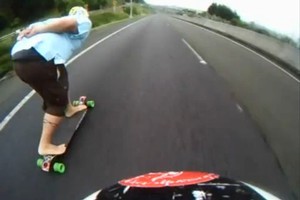 Long-boarders say a group who successfully traversed the Bombay Hills expressway were highly skilled and risk-averse but others have slammed the crew for their devil-may-care attitude.
The Weekend Herald received a flood of responses to coverage of long-boarders who rode down State Highway 1 on their boards and put the clip on YouTube - only to be criticised by police as "idiots".
Long-boarder Graham Bewley said riding a skateboard on the expressway was dangerous but people had the wrong idea about the sport.
"With five minutes of actual research, this news outlet would have been able to discover that we can stop, using what is called a shutdown slide, without hurting ourselves," he said.
"Also, the riders were wearing slide gloves and full-face helmets. Some were wearing knee pads also. Falling on a long-board is not very dangerous and can be done safely by any rider who is capable of travelling at the speed that those in question were."
His views were backed by Jack Bourne, who said long-boarders were pushing the boundaries of convention.
"That is what humans do," he said.
"The silly police should think before opening their mouths. What is the ratio of long-boarders killed versus police-related road deaths this year?"
Jack Trainor congratulated the long-boarders but said the "fun police" would find some way to stop them.
"Sure it's risky, but we stifle and take away so much from our kids growing up these days it's no wonder they get into trouble. They can't help it. Everything's against the law!"
But Drew Forsythe, who lives at the bottom of the Bombay Hills, said there was a fine line between bravery and stupidity. "These guys have well and truly crossed that line into the realms of stupidity.
"I live near Pokeno and use that section of road during the daily commute every day and I would like to continue my life without the possibility of tangling with one of these dickheads."
Ian Stewart said if long-boarders used state highways they should be required to register the long-board and pay ACC levies as motorcyclists and car users have to.
"Otherwise, they should be refused any medical treatment if they should have an accident. Our ACC system needs to draw a line when it comes to such high-risk activities."
Steven Yan said he knew little about long-boarding. "But ... can any of these long-boarders explain what will keep them attached to their board at a speed of 80-plus km/h?"
LOCAL LONG-BOARDING LOW-DOWN
How long has long-boarding been around in NZ?
Auckland long-board builder Jestah Carnie says the local scene probably began in the early 2000s with a handful of riders and some skateboard stores stocking boards. He believes there are now about 3000 long-boarders in New Zealand, aged from the early teens to mid 20s.
How are the dimensions different to skateboards?
Long-boards vary from not much bigger than your foot to nearly 2m long. The trucks can be more flexible, the wheels bigger and decking different.
What are long-boards made of?
Lower end long-boards have a timber core with a composite skin, often fibreglass. High performance boards sometimes have a carbon fibre skin, top-end long-boards have carbon fibre skins with a foam core.
How much do they cost?
Entry level boards cost about $400, top of the line $2000-plus.